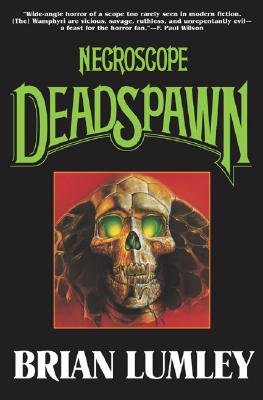 Necroscope V: Deadspawn (Hardcover)
Deadspawn
Tor Books, 9780312863814, 432pp.
Publication Date: December 1, 2003
* Individual store prices may vary.
or
Not Currently Available for Direct Purchase
Description
Brian Lumley's Necroscope novels are one of the horror genre's most towering achievements. The adventures of the Necroscopes, Harry Keogh and his successor, Jake Cutter, and the psychically gifted agents of E-Branch, Britain's super-secret spy organization, as they battle malevolent, shape-shifting Wamphyri have spanned two worlds, thirteen novels, and an infinity of time. The Necroscope novels have sold more than two million copies in English alone.
Tor Books is proud to publish Necroscope: Deadspawn in hardcover for the first time. Previously available only in mass market, Necroscope: Deadspawn is the fifth spine-tingling volume in Lumley's exciting vampire series and marks a turning point in the life and career of Harry Keogh, the original Necroscope.
After the battles of Deadspeak, Harry has recovered his Necroscopic abilities. He can once again travel instantly between places and times via the marvelous mathematics of the Möbius Continuum. He can once again hear and speak to the dead and carry messages between the living and those long gone.
But the Necroscope's bargain with Faethor Ferenczy, father of vampires, has sown the seed of Harry's downfall---a vampire seed! Deep in the recesses of Harry's mind, a vampire grows, a vampire that might someday be the greatest Wamphyri of all, one with all the Necroscope's great psychic powers warped to evil use.
Harry's lifetime on earth has just become sharply limited. But until he loses the fight against the vampire thing, the Necroscope still has work to do. The tortured victims of a serial killer and necromancer cry out for justice. Harry Keogh is the only person who can identify and find this vile murderer. And he will do it, fighting the vampire spawn inside him every step of the way.
About the Author
Brian Lumley is the author of the bestselling Necroscope series of vampire novels. The first "Necroscope," Harry Keogh, also appears in a collection of Lumley's short fiction, "Harry Keogh and Other Weird Heroes," along Titus Crow and Henri Laurent de Marigny, from T"itus Crow, Volumes One, Two, and Three," and "David Hero and Eldin the Wanderer," from the" Dreamlands" series.

An acknowledged master of Lovecraft-style horror, Brian Lumley has won the British Fantasy Award and been named a Grand Master of Horror. His works have been published in more than a dozen countries and have inspired comic books, role-playing games, and sculpture, and been adapted for television.

When not writing, Lumley can often be found spear-fishing in the Greek islands, gambling in Las Vegas, or attending a convention somewhere in the US. Lumley and his wife live in England.
Praise For Necroscope V: Deadspawn…
"British horror mainstay Lumley's latest entry in his enduring Necroscope series ... will dazzle.... Lumley's ... supernatural adventure thrillers put him firmly in the tradition of such classic Gothic authors as Ann Radcliffe, Charles Maturin and Gregory "Monk" Lewis."--Publishers Weekly "Lumley's Wamphyri are far stronger, more vicious and bloodthirsty than any vampires dreamed up by American authors."--Kirkus Reviews
Advertisement