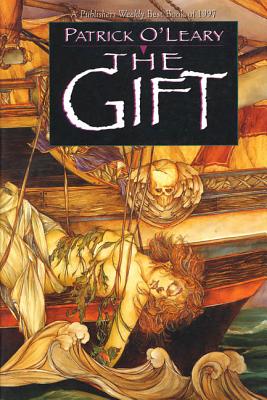 The Gift (Paperback)
Tor Books, 9780312864033, 288pp.
Publication Date: August 15, 1998
* Individual store prices may vary.
Description
The Gift is an exploration of the art of storytelling, a coming-of-age tale in a place and time when magic is not the ring to be grabbed but the poison to be shunned. This Gift is one that will be opened, read, and treasured for a long time to come.
About the Author
Patrick O'Leary was born in 1952 in Saginaw, Michigan. He graduated with a B.A. in Journalism from Wayne State University where he shared first prize for Poetry in the Thompkin's Competition in 1974. His poetry has appeared in literary magazines across North America including The Iowa Review, The Little Magazine, Poetry East, and The University of Windsor Review. Door Number Three, his first novel, was chosen as "One of the best novels of 1995" by Publisher's Weekly. His second novel, The Gift, was a finalist for the World Fantasy Award and the Mythopoeic Award. His novels have been translated into German, Japanese, Polish, French and Braille. O'Leary works in advertising and has won numerous industry awards. He travels extensively, but he makes his home near Detroit with his wife and sons.
Praise For The Gift…
"The Gift deftly exploits the trappings of fanatsy without falling into the traps. Ever the alchemist, Patrick o'Leary has transformed his word processor into a kind of magic flute, using it to play haunting fictive melodies of strange frogs, numinousdragons, and the hidden mysteries of humanness. the final result is a hymn to the terrible and beautiful boon of storytelling, from one who knows how to give us that gift." —James Morrow
"O'Leary's voice rarely wavers as he again displays his mastery of fantasy and social motifs, weaving familiar themes into a heartwarming, enchanting story." —Publishers Weekly (starred review)
"A complex and moving meditation on the nature of storytelling. . . . Utterly unlike Door Number Three in style and substance, the new book acheives the same high level of accomplishment. It is beautifully written, elegantly structured, and highly perceptive in its observations about the importance of imagination." —San Francisco Chronicle
"O'leary has his own gift with prose: teh words flow with the natural lilt and lift of a storyteller's voice of old, of true tales told around a camfire, or in a great hall at the end of the evening, when the feasting is done....The Gift turns out to be just as wonderful a reading experience as was the author's first novel." —The Magazine of Fantasy & Science Fiction