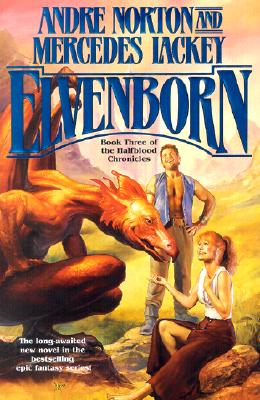 Elvenborn (Hardcover)
Tor Books, 9780312864569, 384pp.
Publication Date: August 1, 2002
* Individual store prices may vary.
or
Not Currently Available for Direct Purchase
Description
In this long-awaited new novel in The Halfblood Chronicles, fantasy greats Norton and Lackey tell the enthralling story of the reclusive elvenlord Kyrtian, who emerges as a hero in a world torn by politics and war. When his cousin, Aelmarkin, tries to prove that Kyrtian is unfit to run his estate, the plan backfires, and soon Kyrtian, who doesn't share the venal, greedy nature of his cousin, finds himself with more power than he ever wanted.

Like his father before him, Kyrtian has always treated the humans on his estate like servants, instead of enslaving them as other elvenlords do. His father's legacy also leads Kyrtian to learn ancient military skills long since lost to elvenkind through the carelessness of the elvenlords. Kyrtian's rediscovered knowledge piques the interest of the current elvenlords, and soon Kyrtian finds himself appointed the new commander of the army, to the relief of his ruling peers.

For the sons of the most powerful elvenlords, the Young Lords, have rebelled against their fathers and are waging war. But by taking advantage of both the privileges of his new command and the help of some unexpected new friends, Kyrtian finally gains the resources to embark on his own, personal quest--resuming his father's search for the Great Portal, the magical doorway through which the original elvenlords entered this world.

As war rages between some sons and fathers, Kyrtian searches desperately for his own lost father, hoping to uncover not only the mystery of his disappearance, but also the secret behind the origin of elvenkind.
About the Author
For well over a half century, Andre Norton has been one of the most popular science fiction and fantasy authors in the world. Since her first SF novels were published in the 1940s, her adventure SF has enthralled readers young and old. With series such as" Time Traders, Solar Queen, Forerunner, Beast Master, Crosstime, "and "Janus," as well as many stand-alone novels, her tales of action and adventure throughout the galaxy have drawn countless readers to science fiction.

Her fantasy, including the best-selling "Witch World" series, her "Magic" series, and many other unrelated novels, has been popular with readers for decades. Lauded as a Grand Master by the Science Fiction Writers of America, she is the recipient of a Life Achievement Award from the World Fantasy Convention. Not only have her books been enormously popular; she also has inspired several generations of SF and fantasy writers, especially many talented women writers who have followed in her footsteps. In the past two decades she has worked with other writers on a number of novels. Most notable among these are collaborations with Mercedes Lackey, the "Halfblood Chronicles, " as well as collaborations with A.C. Crispin (in the "Witch World" series) and Sherwood Smith (in the "Time Traders "and "Solar Queen "series). An Ohio native, Ms. Norton lived for a number of years in Winter Park, Florida, and now makes her home in Murfreesboro, Tennessee, where she continues to write, and presides over High Hallack, a writers' resource and retreat.

Mercedes Lackey began writing fiction while working for American Airlines. In addition to her many novels, she has written lyrics for and recorded several albums of fiction folk songs, which have been distributed through Firebird Arts & Music. Lackey's longest-running series, beginning with A"rrows of the Queen," details the adventures of the Heralds of Valdemar. Lackey's other series include "Bardic Voices; the Elementals; the Halfblood Chronicles" (first volume: "The Elvenbane");" Elves on the Road," which includes Tor's "Burning Water" and its 0sequels; and the "Obsidian Trilogy," also published by Tor, which begins with T"he Outstretched Shadow."

Lackey often teams up with both her fellow masters of fantasy, such as Andre Norton and Anne McCaffrey, and talented newer writers Rosemary Edghill. Married to artist and sometime co-author Larry Dixon, Lackey, who was born in Chicago, lives near Tulsa, Oklahoma.
Praise For Elvenborn…
"A damned fine tale, a splendid blend of the talents of two excellent storytellers." --Anne McCaffrey

"Grand Master Andre Norton and new master Mercedes Lackey combine prodigious talents in The Elvenbane, a conjuration of all the ingredients of classic fantasy--sentient dragons, elegant elves, wily wizards, magical crystals, rites of passage, political intrigue, and a dash of youthful romance. Norton and Lackey fans will be spellbound by this novel!"--Jennifer Roberson

"Romance blossoms, war threatens, and heroism ensues. . . . Both authors have a sweet way with characters, and there is enough magic, mystery and romantic bonding of fantastic species in improbable ways to keep loyal fans entertained."--Publishers Weekly

"The women in the book are particularly strong characters, taking control of their own lives. LaShana has great leadership qualities, and Sheyrena has strength and resourcefulness, and the two of them provide two good role models for young women."--Voya
Advertisement