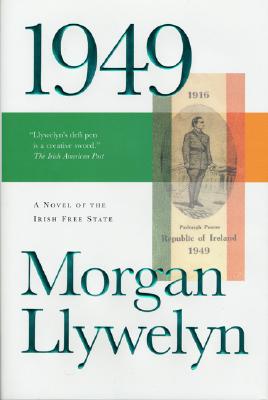 1949 (Hardcover)
A Novel of the Irish Free State
Forge Books, 9780312867539, 416pp.
Publication Date: February 1, 2003
Other Editions of This Title:
Paperback (10/4/2016)
Paperback (3/1/2004)
* Individual store prices may vary.
Description
The masterly epic, The Irish Century, continues in 1949, a sequel to 1916 and 1921.

The struggle of the Irish people for independence is one of the compelling historical dramas of the twentieth century. Morgan Llywelyn has chosen it as the subject of her major work, a meticulously researched, multinovel chronicle that began with 1916, continued in 1921, and that she now brings up to the midcentury in 1949.

Her new novel book tells the story of Ursula Halloran, a fiercely independent young woman who comes of age in the 1920s. She experiences the tumult of the times in a way that brings those days vividly alive for every reader. The tragedy of Irish civil war gives way in the 1920s to a repressive Catholic state led by Eamon De Valera. Married women cannot hold jobs, divorce is illegal, and the IRA has become a band of outlaws still devoted to and fighting for a Republic that never lived. The Great Depression stalks the world, and war is always on the horizon, whether in Northern Ireland, Spain, or elsewhere on the European continent.

Ursula, the adopted daughter of a revolutionary, Ned Halloran, remains an idealist believing in Ireland. She works for the fledgling Irish radio service and then for the League of Nations, while her personal life is torn between two men: an Irish civil servant and an English pilot. One is too much a gentleman, and the other too much a scoundrel.

Defying Church and State, Ursula bears a child out of wedlock, though she must leave the country to do so, and nearly loses her life in the opening days of World War II. Eventually she returns to an Ireland that is steadfastly determined to remain neutral during the war; an Ireland shaken by the great duel between De Valera and Winston Churchill. As always with Ireland, politics and passion go hand in hand.

1949 is the story of one strong woman who lives through the progress of Ireland from a broken land to the beginnings of a modern independent state.
About the Author
Since 1980 Morgan Llywelyn has created an entire body of work chronicling the Celts and Ireland, from the earliest times to the present day. her critically acclaimed novels, both of history and of mythology, have been translated into many languages. She is an Irish citizen and lives in Dublin.
Praise For 1949: A Novel of the Irish Free State…
"Llywelyn's deft pen is a creative sword." -The Irish American Post

"Morgan Llywelyn has written a wonderful, exciting book - a great reading pleasure." -Irish American News on 1921

"Llywelyn is unexcelled in her knowledge of Irish history and culture. For twenty years she has been my inspiration when it comes to meticulous research and respect for the people who lived her stories. Now, with considerable powers of description, Llywelyn explores the nooks and quirks and fearful consequences of a tumultuous time in Irish history."-Lucia St. Clair Robson
or
Not Currently Available for Direct Purchase