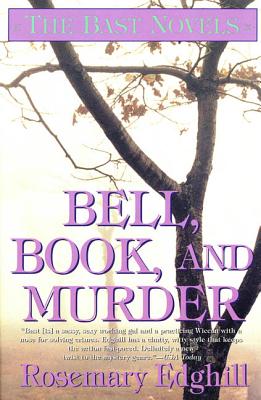 Bell, Book, and Murder (Paperback)
The Bast Mysteries
Forge Books, 9780312867683, 448pp.
Publication Date: August 15, 1998
* Individual store prices may vary.
Description
Rosemary Edghill cast a keenly observant, friendly, yet faintly amused eye on an intriguing American micro-culture. The Bast novels offer a very new view of the practitioners of a very old faith. Edghill allows that there's still magic in the air.
Rosemary Edghill's Bast novels are a real treat. Bell, Book, and Murder contains all three Bast novels, Speak Daggers to Her, Book of Moons, and the first softcover edition of The Bowl of Night (excerpted in USA Today).
About the Author
Rosemary Edghill is a prolific writer in several genres, under her own name and various pseudonyms. Her Bast books, witty mysteries featuring a Wiccan amateur detective, were collected in Bell, Book, and Murder. She has also written Regency Romances and fantasy novels, including several collaborations with Mercedes Lackey (Spirits White as Lightning and Mad Maudlin) and Andre Norton (Shadow of Albion and Leopard in Exile).
Edghill lives in upstate New York with several cats and several Cavalier King Charles Spaniels, which she shows in obedience competitions.
Praise For Bell, Book, and Murder: The Bast Mysteries…
"Edghill has a chatty, witty style that keeps the action fast-paced. Definitely a new twist to the mystery genre." —USA Today