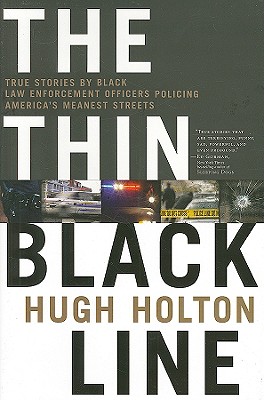 The Thin Black Line: True Stories by Black Law Enforcement Officers Policing America's Meanest Streets (Hardcover)
True Stories by Black Law Enforcement Officers Policing America's Meanest Streets
Forge Books, 9780312868208, 320pp.
Publication Date: January 6, 2009
* Individual store prices may vary.
or
Not Currently Available for Direct Purchase
Description
Meet the black men and women policing our meanest streets . . . LaVerne Dunlap - She infiltrates drug gangs and testifies against them in court . . . only to have the drug lords come gunning for her. Dep. County Sheriff Winroe Reed - He goes into America's "Homicide Capital" alone to apprehend a 6'9" homicidal crack dealer . . . a man so dangerous no other cops would accompany him. Robbie Robinson - A movie actor/martial arts star/probation officer, he takes down LA's toughest gangs. These are just a few of the courageous black heroes in Hugh Holton's The Thin Black Line.
About the Author
Police Lieutenant HUGH HOLTON was a twenty-nine year veteran of the Chicago Police Department. He wrote several bestselling novels, including, " Time of the Assassins, The Left Hand of God, "and" Violent Crimes." At the time of his death, Hugh Holton was the highest ranking active police officer writing novels in America.
Praise For The Thin Black Line: True Stories by Black Law Enforcement Officers Policing America's Meanest Streets…
"I've never read a more revealing, riveting account of being a police officer before. The African-American men and women here tell true stories that are terrifying, funny, sad, powerful and even profound. And ultimately the stories tell us as much about our society as the do about the officers involved." --Ed Gorman, author of Sleeping Dogs "Holton uses words with the economy of cartridges and chooses his targets with precision. No one who reads these fact-based accounts of the ongoing war on crime will ever again take the phrase "to serve and protect" for granted." --Loren D. Estleman, author of the Amos Walker detective series "Inside stories of cops on the front lines. This is the real McCoy."--Barbara D'Amato, author of Death of a Thousand Cuts "The Thin Black Line is nothing short of stunning. These are the real stories of cops in action, in their own words. Sometimes frightening, sometimes sad, sometimes funny, these are the voices of the real deal men and women who are the front line of defense- us against the bad guys." --David Hagberg, author of Dance with the Dragon
Advertisement