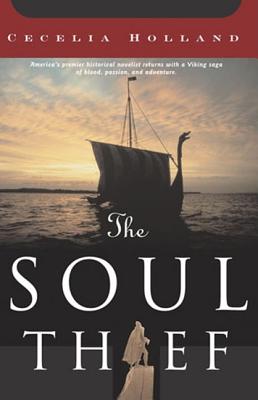 The Soul Thief (Paperback)
Forge Books, 9780312869977, 304pp.
Publication Date: March 1, 2004
Other Editions of This Title:
Hardcover (4/1/2002)
* Individual store prices may vary.
Description
They were one soul in two bodies, Corban and Mav, twins born to the lord of a Irish coastal farmstead. Mav had the Second Sight, and was her father's delight; Corban, though, was a deep disappointment, finally exiled for refusing his father's command to go and take up a sword for the High King

But on the night of Corban's exile, as he slept in the woods and brooded on injustice, the dreadful dragon ships of the Vikings bore down on his home with fire and the sword. The farm was plundered and burned; all the people were slain, save the young women - they were raped and dragged off to a life of slavery.

From the coast of Ireland to the occupied village of Dublin, across the Irish Sea to a Viking stronghold in Britain, and then across the sea to the Kingdom of the Danes, Corban is drawn in the track of his ravaged sister, fighting for his own life and to earn the influence and money he will need to buy her freedom. His quest is not hopeless, for Mav's second sight, made stronger by the dreadful fate that has befallen her, has brought her to the attention of the Lady of Hedeby. The Lady, wealthy and influential in the Kingdom of the Danes, has bought Mav; she intends to use the twins ,and their link with each other, to extend that influence far beyond Hedeby.
About the Author
Cecelia Holland has been writing since she was 12, and spends a good deal of every day writing. She chose to write historical fiction, because, being 12, she had precious few stories of her own, and history seemed to her then, as it still does, an endless fund of material.

She was encouraged to write by the poet William Meredith and the short story writer David Jackson. Her first novel was "The Firedrake," and it was published by Atheneum in 1966. Since then, Cecelia has written a lot, read a lot, and raised three daughters. She lived in northern California, in the country. Once a week, she teaches creative writing at Pelican Baystate Prison in Crescent City, and, every day, she takes care of a small menagerie of little animals.
or
Not Currently Available for Direct Purchase