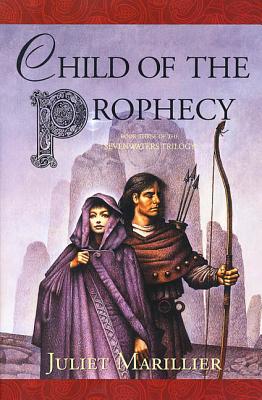 Child of the Prophecy (Paperback)
Tor Books, 9780312870362, 528pp.
Publication Date: January 1, 2003
Description
"Child of the Prophecy" is the thrilling conclusion to Juliet Marillier's award-winning Sevenwaters Trilogy.
Magic is fading... and the ways of Man are driving the Old Ones to the West, beyond the ken of humankind. The ancient groves are being destroyed, and if nothing is done, Ireland will lose its essential mystic core.
The prophecies of long ago have foretold a way to prevent this horror, and it is the Sevenwaters clan that the spirits of Eire look to for salvation. They are a family bound into the lifeblood of the land, and their promise to preserve the magic has been the cause of great joy to them... as well as great sorrow.
It is up to Fianne, daughter of Niamh, the lost sister of Sevenwaters, to solve the riddles of power. A shy child of a reclusive sorcerer, she finds that her way is hard: She is the granddaughter of the wicked sorceress Oonagh, who has emerged from the shadows and seeks to destroy all that Sevenwaters has striven for. Oonagh will use Fianne most cruelly to accomplish her ends, and stops at nothing to see her will done.
Will Fianne be strong enough to battle this evil and save those she has come to love?
About the Author
Juliet Marillier was born in Dunedin, New Zealand, a town with strong Scottish roots. She currently lives in a rural area of Western Australia, sharing her house with a cat and a dog. A university graduate in music and languages, she has had a varied career that includes working for government agencies, opera singing, and raising four children. Juliet now writes full time. Her lifelong interest in myth, legend, folklore and traditional music is a strong influence on both style and theme in her writing. A passion for early British history, reflecting her Celtic ancestry, is evident in her choice of settings.Juliet Marillier achieved international recognition in 1999 with the publication of her award-winning novel Daughter of the Forest. This is the first book of the Sevenwaters Trilogy, a historical fantasy set in Ireland and Britain in the ninth century, and is loosely based on the traditional fairy tale, The Six Swans. The second book in the series, Son of the Shadows, won the 2000 Aurealis Award for best fantasy novel. Child of the Prophecy completes this trilogy. Juliet Marillier's second series is based on the first Viking voyage from Norway to Orkney, and weaves history and folklore into a saga of adventure, romance and magic. The series is made up of two novels, Wolfskin and Foxmask. Juliet is currently working on a new trilogy set in the north of Britain in the time of the Picts.Juliet is a member of the druid order OBOD and of the Australian Greens Party, reflecting her commitment to environmental causes.
Praise For Child of the Prophecy…
"A rich tapestry of love and loss, family loyalty and personal sacrifice... Marillier's strong voice and rolling, lucid prose seem appropriate for a tenth century Irish tale, and her command of a fantasy story's elements make this an excellent conclusion to a fine trilogy." -Publishers Weekly (starred review)

"Juliet Marillier is among the most skilled of fantasy writers"--Sara Douglass
Advertisement