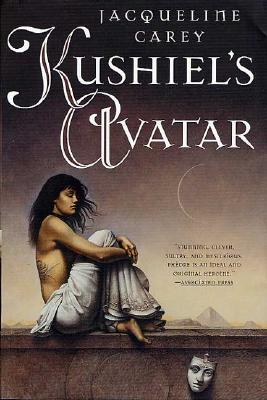 Kushiel's Avatar (Hardcover)
Tor Books, 9780312872403, 704pp.
Publication Date: April 1, 2003
* Individual store prices may vary.
or
Not Currently Available for Direct Purchase
Description
The land of Terre d' Ange is a place of unsurpassed beauty and grace. It is said that angels found the land and saw it was good...and the ensuing race that rose from the seed of angels and men live by one simple rule:

Love as thou wilt.

Phèdre nó Delaunay is a woman born with a scarlet mote in her left eye and sold into indentured servitude as a child. Her bond was purchased by a nobleman, and he was the first one to recognize who and what she is: one pricked by Kushiel's Dart, chosen to forever experience pain and pleasure as one.

Phèdre's path has taken a strange and sometimes dangerous course. She has lain with princes and pirate kings, battled a wicked temptress who is still determined to win the crown at any cost, and saved two nations with her courageous actions and sacrifices. Through it all she has had the devoted swordsman Joscelin at her side, who knew from the beginning what she was. Her very nature is a torturous thing for them both, and it is a bane on their lives--but he is sworn to her and by accepting who she is, Joscelin has never violated the central precept of the angel Cassiel: to protect and serve.

But Phèdre's plans will put his pledge to the test, for she has never forgotten her childhood friend Hyacinthe. She has spent ten long years searching for the key to free him from his eternal indenture to the Master of Straights, a bargain with the gods that he struck so that a nation could be saved; in doing so, he took Phèdre's place as a sacrifice. She cannot forget, and she cannot forgive--herself or the gods. She is determined to seize one last hope to redeem her friend, even if it means her death.

Their search will bring Phèdre and Joscelin on a dangerous path that will carry them across the world, to fabled courts and splendid vistas, to distant lands where madness reigns and souls are currency, and down a fabled river to a land forgotten by most of the world.

And to a power so mighty that none dare speak its name.

Kushiel's Avatar is the concluding volume in Jacqueline Carey's evocative novels about the enigmatic Phèdre nó Delaunay; the third in a triptych of beautifully constructed historical fantasies that combine passion and danger, great battles of the sword and soul, deep eroticism, and mystical enigmas.
About the Author
Born in 1964, Jacqueline Carey was an avid reader since early childhood. She began writing in high school, not realizing her hobby would become a permanent vocation. After receiving B.A. degrees in psychology and English literature from Lake Forest College, she spent time living in London and working in a bookstore, then traveling throughout Europe. While living abroad, the desire to become a professional novelist emerged as a driving passion.

Upon returning she embarked in earnest on a writing career, which came to fruition some ten years later. During this time, she worked at the art center of an area college, gaining a strong background in the visual arts. This, along with her early studies in literature and psychology informs her work, as does a lifelong interest in mythology. She enjoys doing research on a wide variety of arcane topics, and an affinity for travel has take her from Finland to Egypt to date. Although often asked by inquiring fans, she does not, in fact, have any tattoos.

Jacqueline currently resides in west Michigan, where she is a founding member of the oldest Mardi Gras krewe in the state. She is the author of the critically acclaimed Kushiel's Legacy fantasy trilogy, including "Kushiel's Dart," which received the Locus Award for Best First Novel and the Romantic Times Reviewer's Choice Award for Best Fantasy in 2001. Other previous publications include a nonfiction book, various essays and short stories.
Praise For Kushiel's Avatar…
"Stunning, clever, sultry, and mysterious, Phèdre is an ideal and original heroine."--Associated Press

"Carey dismantles standard notions of both magic and morality to produce a long, complex saga worthy of the field's best writer on such a scale, George R. R. Martin." --Locus
Advertisement