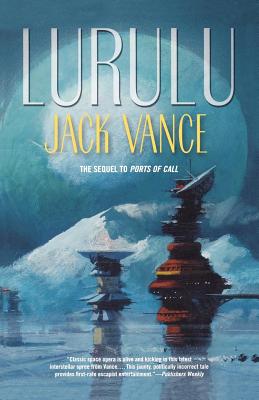 Lurulu (Ports of Call #2) (Paperback)
Tor Books, 9780312872793, 208pp.
Publication Date: February 6, 2007
* Individual store prices may vary.
Description
Rejoin Myron Tany and the crew of the space freighter Glicca as they ply their way from planet to planet, star to star, and adventure to adventure. Each of them is there by chance, and each has a secret quest. From one world to the next, they will chase their dreams of revenge and fulfillment.
About the Author
Jack Vance, born John Holbrook Vance in 1916, was one of the greatest masters of fantasy and science fiction. He was the winner of many awards for his work and career: the Damon Knight Memorial Grand Master Award from the Science Fiction and Fantasy Writers of America, and the World Fantasy Award for Life Achievement. Among his awards for particular works were the Hugo award in 1963 for The Dragon Masters, in 1967 for The Last Castle, and in 2010 for his memoir This is Me, Jack Vance! He won a Nebula Award in 1966 for The Last Castle. He won the World Fantasy Award for Best Novel in 1990 for Lyonesse: Madouc. He also won an Edgar for the best first mystery novel in 1961 for The Man in the Cage. Vance published more than 60 books in his career, sometimes under pseudonyms. Among them were eleven mystery novels, three of them as Ellery Queen. He wrote some of the first, and perhaps best, examples of "planetary adventures", including a novel called Big Planet. His "Dying Earth" series were among the most influential fantasy novels ever written, inspiring both generations of writers, and the creators of Dungeons and Dragons.
Vance's series from Tor include The Demon Princes, The Cadwal Chronicles, The Dying Earth, The Planet of Adventure, and Alastor. Vance's last novels were a series of two: Ports of Call and Lurulu.
Jack Vance was a sailor, a writer, an adventurer, a music critic, and a raconteur. He died in May 2013.
Praise For Lurulu (Ports of Call #2)…
"Now in his seventh decade of writing sf, Vance shows no sign of stinting either his impeccable style or storytelling mastery. Vance makes his story a vehicle for inventing distinctive alien cultures and unforgettably vivid characterizations." —Booklist

"The sequel to SFWA Grand Master Vance's Ports of Call (1998) continues the adventures of Myron Tany in a headlong rush of droll vignettes in the spirit, if not with the depth, of Gulliver's Travels. Abandoned by his great-aunt for dawdling while piloting her space-yacht toward the distant world of Naharius, Myron now handles cargo aboard the interstellar freighter Glicca for Capt. Adair Maloof and his slightly shady crew and its passengers. The freighter wanders wherever its cargo may take it, guided by the frequently incorrect 'Handbook of the Planets'. Along the way Myron learns about "lurulu," "a special word from the language of myth," which may best be translated as the achievement of your heart's desire." —Publishers Weekly