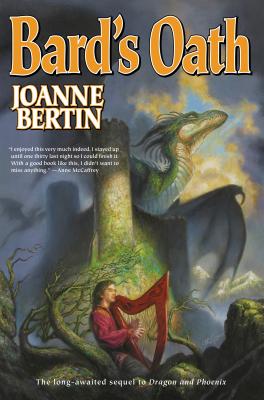 Bard's Oath (Hardcover)
Tor Books, 9780312873707, 431pp.
Publication Date: November 27, 2012
* Individual store prices may vary.
Description
In "The Last Dragonlord" and "Dragon and Phoenix" Joanne Bertin created a world
unlike our own, where Dragonlords soar in the skies above the many realms of the land.
The Dragonlords' magic is unique, giving them the ability to change from dragon to
human form; to communicate silently among themselves; and other abilities not known
to mortals.
For many millennia, the Dragonlords have been a blessing to the world, with their
great magic and awesome power. And though they live far longer than the humans who
they resemble when not in their draconic state, these fabled changelings are still loyal to
their human friends. Now in "Bard's Oath," their magic is not the only power abroad in the world. And not all the magic is as benign as theirs.
Leet, a master bard of great ability and vaulting ambition, has his own magic, but of a much darker nature. Years ago, death claimed the woman he loved, setting him on a course to avenge her death, no matter the consequences. Now, mad with hatred and consumed by his thirst for revenge, Leet has set in motion a nefarious plot that ensnares the friend of a Dragonlord, using his bardic skills . . . and dark powers only he can summon, to accomplish his bitter task.
Raven, a young horse-breeder friend of the Dragonloard Linden Rathan, is ensnared by Leet and under the bard's spell, is one of the bard's unwitting catspaws. When accused of a heinous crime, Raven turns to Linden, and while Dragonlords normally do not meddle in human affairs, Linden comes to Raven's aid, loath to abandon him in his time of desperate need.
But Raven, and others victimized by Leet, are at the mercy of human justice. Can even a Dragonlord save them from a dire fate before it is too late?
About the Author
JOANNE BERTIN is the author of The Last Dragonlord and Dragon and Phoenix, the first two books in the Dragonlords series. Bard's Oath is the final novel of the trilogy. She lives in Connecticut with her family.
Praise For Bard's Oath…
Praise for Dragon and Phoenix:
"Bertin reaches new heights of dramatic adventure and political intrigue in the sequel to The Last Dragonlord."  —Booklist
"Ms. Bertin makes us eager to find out what happens next. A first-class fantasist indeed!"
—RT Book Reviews
"The author's talent for depicting exotic and complex interpersonal relationships provides a solid anchor for this rousing fantasy adventure."  —
Library Journal
Praise for The Last Dragonlord:
"I enjoyed this very much indeed. I stayed up until 1:30 last night so I could finish it off. With a good book like this, I didn't want to miss anything."
—Anne McCaffrey, bestselling author of The Dragonriders of Pern
"The flow of action and many layers of intrigue will float readers toward her novel's hard-fought conclusion."  —Publishers Weekly
"A first novel of great power and imagination."  —Science Fiction Age
or
Not Currently Available for Direct Purchase