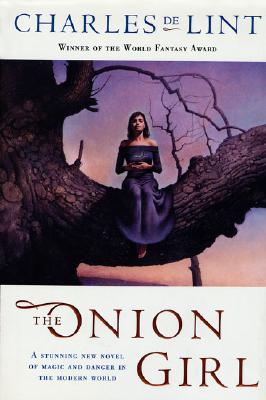 The Onion Girl (Hardcover)
Tor Books, 9780312873974, 508pp.
Publication Date: October 1, 2001
* Individual store prices may vary.
or
Not Currently Available for Direct Purchase
Description
In novel after novel, and story after story, Charles de Lint has brought an entire imaginary North American city to vivid life. Newford: where magic lights dark streets; where myths walk clothed in modern shapes; where a broad cast of extraordinary and affecting people work to keep the whole world turning.

At the center of all the entwined lives in Newford stands a young artist named Jilly Coppercorn, with her tangled hair, her paint-splattered jeans, a smile perpetually on her lips--Jilly, whose paintings capture the hidden beings that dwell in the city's shadows. Now, at last, de Lint tells Jilly's own story...for behind the painter's fey charm lies a dark secret and a past she's labored to forget. And that past is coming to claim her now.

"I'm the onion girl," Jilly Coppercorn says. "Pull back the layers of my life, and you won't find anything at the core. Just a broken child. A hollow girl." She's very, very good at running. But life has just forced Jilly to stop.
About the Author
Born in Holland in 1951, Charles de Lint grew up in Canada, with a few years off in Turkey, Lebanon, and Switzerland.

Although his first novel was 1984's "The Riddle of the Wren," it was with" Moonheart," published later that same year, that de Lint made his mark, and established him at the forefront of "urban fantasy," modern fantasy storytelling set on contemporary city streets. " Moonheart "was set in and around "Newford," an imaginary modern North American city, and many of de Lint's subsequent novels have been set in Newford as well, with a growing cast of characters who weave their way in and out of the stories. The Newford novels include" Spirit Walk, Memory and Dream, Trader, Someplace To Be Flying, Forests of the Heart, The Onion Girl, "and" Spirits in the Wires." In addition, de Lint has published several collections of Newford short stories, including "Moonlight and Vines," for which he won the World Fantasy Award. Among de Lint's many other novels are "Mulengro, Jack the Giant-Killer, "and" The Little Country."

Married since 1980 to his fellow musician MaryAnn Harris, Charles de Lint lives in Ottawa, Ontario, Canada.
Praise For The Onion Girl…
"De Lint is a romantic; he believes in the great things, faith, hope, and charity (especially if love is included in that last), but he also believes in the power of magic-or at least the magic of fiction-to open our eyes to a larger world."-- Edmonton Journal

"In de Lint's capable hands, modern fantasy becomes something other than escapism. It becomes folk song, the stuff of urban myth."-The Phoenix Gazette
Advertisement