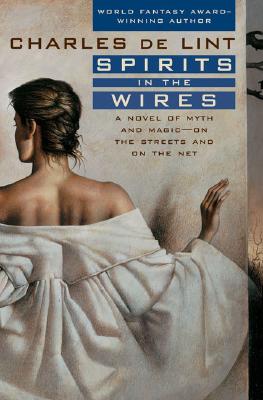 Spirits in the Wires (Hardcover)
Tor Books, 9780312873981, 448pp.
Publication Date: August 12, 2004
* Individual store prices may vary.
Description
Charles de Lint's Newford novels, loosely linked "tales" with overlapping characters set in an imaginary modern North American city, are tales of magic and myth afoot on today's city streets. But at the center of every de Lint story is the miracle of the human heart.

And at the heart of Spirits in the Wires are Saskia Madding and Christiana Tree, both of whom are tied to perennial Newford character, the writer Christy Riddell. Are either Saskia or Christiana real? Christy's girlfriend, Saskia, believes she was born in a Web site, while Christiana is Christy's "shadow-self"--all the parts of him that he cast out when he was seven years old.

At a popular Newford on-line research and library Web site called the Wordwood, a mysterious "crash" occurs. Everyone visiting the site at the moment of the crash vanishes from where they were sitting in front of their computers. Saskia disappears right before Christy's eyes, along with countless others.

Now Christy and his companions must journey into Newford's otherworld, where the Wordwood, it transpires, has a physical presence of its own...to rescue their missing friends and loved ones and to set this viral spirit right before it causes further harm.
About the Author
Born in Holland in 1951, Charles de Lint grew up in Canada, with a few years off in Turkey, Lebanon, and Switzerland.

Although his first novel was 1984's "The Riddle of the Wren," it was with" Moonheart," published later that same year, that de Lint made his mark, and established him at the forefront of "urban fantasy," modern fantasy storytelling set on contemporary city streets. " Moonheart "was set in and around "Newford," an imaginary modern North American city, and many of de Lint's subsequent novels have been set in Newford as well, with a growing cast of characters who weave their way in and out of the stories. The Newford novels include" Spirit Walk, Memory and Dream, Trader, Someplace To Be Flying, Forests of the Heart, The Onion Girl, "and" Spirits in the Wires." In addition, de Lint has published several collections of Newford short stories, including "Moonlight and Vines," for which he won the World Fantasy Award. Among de Lint's many other novels are "Mulengro, Jack the Giant-Killer, "and" The Little Country."

Married since 1980 to his fellow musician MaryAnn Harris, Charles de Lint lives in Ottawa, Ontario, Canada.
Praise For Spirits in the Wires…
"De Lint ... handles his concept of technological voodoo with intelligence, verve and wit while introducing fascinating new characters and expanding on old ones.... Will please previous fans and find new ones for this master of the modern fantastic."--Publishers Weekly "Superb characterization and plot development skills."--Booklist
or
Not Currently Available for Direct Purchase