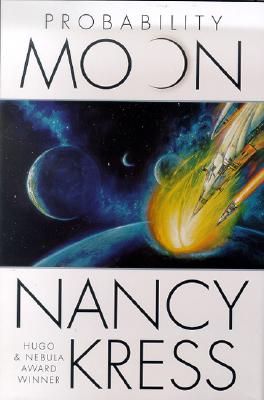 Probability Moon (Hardcover)
Tor Books, 9780312874063, 320pp.
Publication Date: July 1, 2000
* Individual store prices may vary.
or
Not Currently Available for Direct Purchase
Description
Humankind has expanded out into interstellar space using star gates-technological remnants left behind by an ancient, long-vanished race. But the technology comes with a price. Among the stars, humanity encountered the Fallers, a strange alien race bent on nothing short of genocide. It's all-out war, and humanity is losing.

In this fragile situation, a new planet is discovered, inhabited by a pre-industrial race who experience "shared reality"-they're literally compelled to share the same worldview. A team of human scientists is dispatched-but what they don't know is that their mission of first contact is actually a covert military operation.

For one of the planet's moons is really a huge mysterious artifact of the same origin as the star gates . . . and it just may be the key to winning the war.
About the Author
Nancy Kress was born and raised in upstate New York, where she spent most of her childhood either reading or playing in the woods. She earned a bachelor's and master's degree in education, as well as an M.A. in English. While she was pregnant with the second of her two sons, she started writing fiction. She had never planned on becoming a writer, but staying at home full-time with infants left her time to experiment.

In 1990 she went full-time as an SF writer. The first thing she wrote in this new status was the novella version of "Beggars In Spain," which won both the Hugo and the Nebula Award. She is the author of more than twenty books, including more than a dozen novels of science fiction and fantasy, as well as three story collections, and two books on writing. Of her most recent novels, "Probability Space "(Tor, 2002) won the John W. Campbell Award for Best SF novel. Her short fiction has appeared in all the usual places, garnering her one Hugo and three Nebula Awards. Her work has been translated into Swedish, French, German, Italian, Spanish, Polish, Japanese, Croatian, Lithuanian, Romanian, Greek, Hebrew, and Russian. She is also the monthly "Fiction" columnist for "Writer's Digest Magazine" and she teaches writing regularly at various places, including Clarion and The Writing Center in Bethesda, Maryland. She currently resides in Rochester, New York.
Praise For Probability Moon…
"The author of Maximum Light blends a taut story of survival and culture shock with a thoughtful exploration of the nature of humanity."--Library Journal
Advertisement