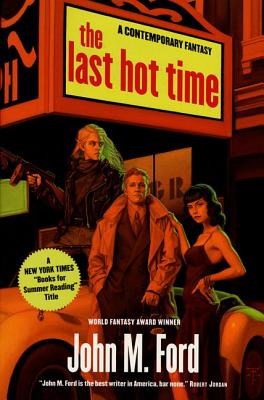 The Last Hot Time (Paperback)
Tor Books, 9780312875787, 208pp.
Publication Date: November 15, 2001
* Individual store prices may vary.
Description
When Danny Holman leaves the cornfields of Iowa for the bright lights of Chicago, he expects his life to change. He just can't guess how much and how fast. A violent incident on the road brings Danny the favor of a man known only as Mr. Patrise, who gives Danny a job, a home, and a new identity.
The City is a different world from the one Danny--now called Doc--knew, and literally so. Long-vanished powers have returned, and more is going on in the streets than nightlife and street warfare. Power is gathering: a power rooted in terror, madness, and death. To fight it will require Doc to face what he fears most. To defeat it will take something more than courage.
About the Author
Author of the World Fantasy Award-winning The Dragon Waiting and the Philip K. Dick Award-winning Growing Up Weightless, along with many other novels including Web of Angels, The Scholars of Night, and How Much for Just the Planet?, John M. Ford lives in Minneapolis, Minnesota.
Praise For The Last Hot Time…
"John M. Ford is the best writer in America, bar none." —Robert Jordan
"Brilliant is as brilliant does....Whether human, minor Elf nobility (the Ellyon), or Highborn Urthas Elves, Ford's generous cast of characters continually surprises, intrigues, and pulses with life, a tribute to his power as a storyteller. Haunting, puzzling, even unsettling and deliberately obscure, this improvisatory jazzlike riff of good and evil in the context of a most unusual growing-up story is as bittersweet as first love and loss, a minor-key elegy for death of youth and innocence." —Publishers Weekly (starred review)
"Ford's evocation of this transformed Chicago has a magic all its own....Beyond the life-or-death tests and the mind-bending puzzles, this is fundamentally a love story, with a deeply satisfying climax (in every sense of the word)." —The New York Times
"Rasping, succinct, tantalizing, and psychologically complex, as well as powerfully visual...Superb." —Kirkus Reviews (starred review)