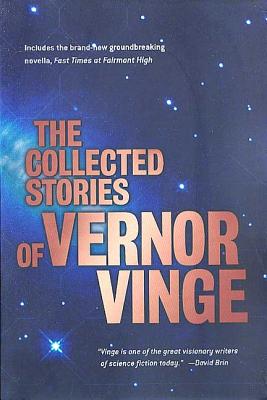 The Collected Stories of Vernor Vinge
Paperback

* Individual store prices may vary.
Description
Since his first published story, "Apartness," appeared in 1965, Vernor Vinge has forged a unique and awe-inspiring career in science fiction as his work has grown and matured. He is now one of the most celebrated science fiction writers in the field , having won the field's top award, the Hugo, for each of his last two novels.

Now, for the first time, this illustrious author gathers all his short fiction into a single volume. This collection is truly the definitive Vinge, capturing his visionary ideas at their very best. It also contains a never-before-published novella, one that represents precisely what this collection encapsulates--bold, unique, challenging science fictional ideas brought to vivid life with compelling storytelling.

Including such major pieces as "The Ungoverned" and "The Blabber," this sumptuous volume will satisfy any reader who loves the sense of wonder, and the excitement of great SF.
Praise For The Collected Stories of Vernor Vinge…
"A masterful novel, complex in style and plot, heavy with science and social speculation . . . . Vinge is truly an original writer." —NOVA Express on A Deepness in the Sky

"Thoughtful space opera at its best, this book delivers everything it promises in terms of galactic scope, audacious concepts, and believable characters both human and nonhuman." —The New York Times Book Review on Fire Upon the Deep


"True science fiction and a delight." —Publishers Weekly on True Names

"No summary can do justice to the depth and conviction of Vinge's ideas." —Kirkus Reviews (starred review) on A Fire Upon the Deep
Orb Books, 9780312875848, 464pp.
Publication Date: August 17, 2002
About the Author
Vernor Vinge is the multi Hugo Award-winning author of A Fire Upon the Deep, A Deepness in the Sky, and Rainbow's End. Known for his rigorous hard-science approach to his science fiction, he became an iconic figure among cybernetic scientists with the publication in 1981 of his novella "True Names," which is considered a seminal, visionary work of Internet fiction. His many books also include Marooned in Realtime and The Peace War.

Born in Waukesha, Wisconsin and raised in Central Michigan, Vinge is the son of geographers. Fascinated by science and particularly computers from an early age, he has a Ph.D. in computer science, and taught mathematics and computer science at San Diego State University for thirty years. He has gained a great deal of attention both here and abroad for his theory of the coming machine intelligence Singularity. Sought widely as a speaker to both business and scientific groups, he lives in San Diego, California.