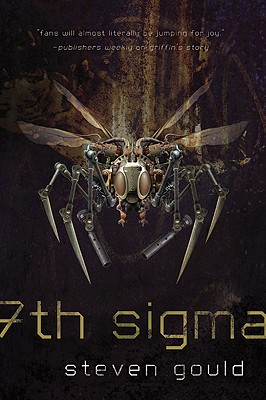 7th Sigma (Hardcover)
Tor Books, 9780312877156, 384pp.
Publication Date: July 5, 2011
* Individual store prices may vary.
Description
Welcome to the territory. Leave your metal behind, all of it. The bugs will eat it, and they'll go right through you to get it Don't carry it, don't wear it, and for god's sake don't come here if you've got a pacemaker.
The bugs showed up about fifty years ago--self-replicating, solar-powered, metal-eating machines. No one knows where they came from. They don't like water, though, so they've stayed in the desert Southwest. The territory. People still live here, but they do it without metal. Log cabins, ceramics, what plastic they can get that will survive the sun and heat. Technology has adapted, and so have the people.
Kimble Monroe has chosen to live in the territory. He was born here, and he is extraordinarily well adapted to it. He's one in a million. Maybe one in a billion.
In 7th Sigma, Gould builds an extraordinary SF novel of survival and personal triumph against all the odds.
About the Author
STEVEN GOULD is the author of Jumper, Wildside, Helm, Blind Waves, Reflex, and Jumper: Griffin's Story, as well as many short stories. He is the recipient of the Hal Clement Young Adult Award for Science Fiction and has been nominated for both the Hugo and the Nebula Awards. Gould lives in New Mexico with his wife, writer Laura J. Mixon and their two daughters.
Praise For 7th Sigma…
"Sheer adventure: full of engaging, nerdily detailed depictions of the minutiae of Aikido, spycraft, artificial life theory, frontier economics, religious zealotry, Zen meditation, and beautiful descriptions of the southwestern landscape. It has the true pulp adventure serial spirit, the compulsively consumable zing that'll have you turning pages long past your bedtime."--Cory Doctorow, New York Times bestselling author of Little Brother, on 7th Sigma
or
Not Currently Available for Direct Purchase