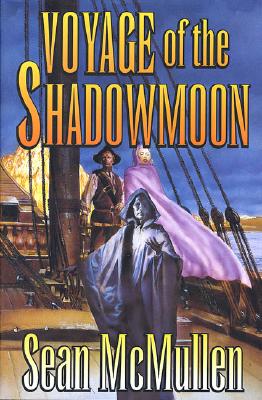 Voyage of the Shadowmoon
Hardcover

* Individual store prices may vary.
Other Editions of This Title:
Paperback (9/1/2010)
Mass Market Paperback (2/1/2004)
Description
Sean McMullen, one of Australia's leading genre writers, took America by storm with his sweeping Greatwinter Trilogy, a post-apocalyptic science fiction tour de force that won over critics and readers alike.

Now McMullen delivers Voyage of the Shadowmoon, a fantasy epic of daunting skill and scope. The Shadowmoon is a small, unobtrusive wooden schooner whose passengers and crew are much more than they seem: Ferran, the Shadowmoon's lusty captain who dreams of power; Roval, the warrior-sorcerer; Velander and Terikel, priestesses of a nearly extinct sect; and the chivalrous vampire Laron, who has been trapped in a fourteen-year-old body for seven hundred years.

They sail the coast, gathering useful information, passing as simple traders. But when they witness the awful power of Silverdeath, an uncontrollable doomsday weapon of awesome destructiveness, they realize they must act. But every single king, emperor, and despot covets Silverdeath's power. It will take all of their wits and more than a little luck if they hope to prevent one of these power-hungry fools from destroying the world. Their only advantage? The Shadowmoon.

While it seems to be little more that a small trading vessel--too small for battle, too fat for speed—it is actually one of the most sophisticated vessels in the world, one that allows them to travel to places where no others would dare. They can only hope it will be enough to save them all before Silverdeath rains destruction across their entire world.
Tor Books, 9780312877408, 496pp.
Publication Date: December 1, 2002
About the Author
Sean McMullen is one of the leading Australian SF authors to emerge during the 1990s, having won more than a dozen national awards in his homeland. In addition, he has sold several dozen short stories to magazines such as "Analog, Interzone," and "Fantasy & Science Fiction," and was co-author of "Strange Constellations, a History of Australian SF." He established himself in the American market with the publication of the "Greatwinter trilogy" (comprised of" Souls in the Great Machine, The Miocene Arrow, "and" Eyes of the Calculor)." His fiction has been translated into Polish, French, and Japanese. The settings for Sean's work range from the Roman Empire, through Medieval Europe, to cities of the distant future.

He has bachelor's and master's degrees from Melbourne University, and post-graduate diplomas in computer science, information science and business management. He is currently doing a PhD in Medieval Fantasy Literature at Melbourne University, where he is also the deputy instructor at the campus karate club, and a member of the fencing club. Before he began writing, Sean spent several years in student reviews and theatre, and was lead singer in three rock and folk bands. After singing in several early music groups and choirs, he spent two years in the Victorian State Opera before he began writing.

He lives in Melbourne with his wife Trish and daughter Catherine.
or
Not Currently Available for Direct Purchase