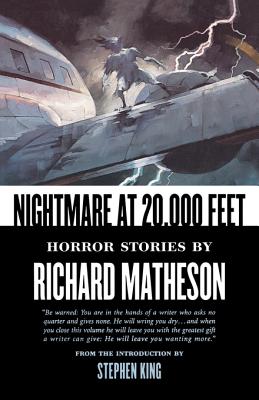 Nightmare at 20,000 Feet: Horror Stories (Paperback)
Horror Stories
Tor Books, 9780312878276, 336pp.
Publication Date: January 5, 2002
Description
Remember that monster on the wing of the airplane? William Shatner saw it on The Twilight Zone, John Lithgow saw it in the movie-even Bart Simpson saw it. "Nightmare at 20,000 Feet" is just one of many classic horror stories by Richard Matheson that have insinuated themselves into our collective imagination.
Here are more than twenty of Matheson's most memorable tales of fear and paranoia, including:
"Duel," the nail-biting tale of man versus machines that inspired Steven Spielberg's first film;
"Prey," in which a terrified woman is stalked by a malevolent Tiki doll, as chillingly captured in yet another legendary TV moment;
"Blood Son," a disturbing portrait of a strange little boy who dreams of being a vampire;
"Dress of White Silk," a seductively sinister tale of evil and innocence.
Personally selected by Richard Matheson, the bestselling author of I Am Legend and What Dreams May Come, these and many other stories, more than demonstrate why he is rightfully regarded as one of the finest and most influential horror writers of our generation.
About the Author
Richard Matheson is The New York Times bestselling author of I Am Legend, Hell House, Other Kingdoms, Somewhere in Time, The Incredible Shrinking Man, A Stir of Echoes, The Beardless Warriors, The Path, Seven Steps to Midnight, Now You See It..., and What Dreams May Come, among others. He was named a Grand Master of Horror by the World Horror Convention, and received the Bram Stoker Award for Lifetime Achievement. He has also won the Edgar, the Spur, and the Writer's Guild awards. In 2010, he was inducted into the Science Fiction Hall of Fame. In addition to his novels, Matheson wrote screenplays, and he wrote for several Twilight Zone episodes, including "Nightmare at 20,000 Feet," based on his short story. He was born in New Jersey and raised in Brooklyn, and fought in the infantry in World War II. He earned his bachelor's degree in journalism from the University of Missouri. He lives in Calabasas, California.
Praise For Nightmare at 20,000 Feet: Horror Stories…
"Be warned: you are in the hands of a writer who asks no quarter and gives none. He will wring you dry . . . and when you close this volume he will leave you with greatest gift a writer can give: he will leave you wanting more."-Stephen King, from his Introduction
Advertisement