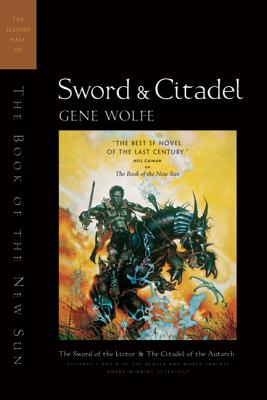 Sword & Citadel (Paperback)
The Second Half of 'The Book of the New Sun'
Orb Books, 9780312890186, 416pp.
Publication Date: October 15, 1994
* Individual store prices may vary.
Description
The Book of the New Sun is unanimously acclaimed as Gene Wolfe's most remarkable work, hailed as "a masterpiece of science fantasy comparable in importance to the major works of Tolkien and Lewis" by Publishers Weekly, and "one of the most ambitious works of speculative fiction in the twentieth century" by The Magazine of Fantasy and Science Fiction. Sword & Citadel brings together the final two books of the tetralogy in one volume:
The Sword of the Lictor is the third volume in Wolfe's remarkable epic, chronicling the odyssey of the wandering pilgrim called Severian, driven by a powerful and unfathomable destiny, as he carries out a dark mission far from his home.
The Citadel of the Autarch brings The Book of the New Sun to its harrowing conclusion, as Severian clashes in a final reckoning with the dread Autarch, fulfilling an ancient prophecy that will forever alter the realm known as Urth.
"Brilliant . . . terrific . . . a fantasy so epic it beggars the mind. An extraordinary work of art!"-Philadelphia Inquirer
"The Book of the New Sun establishes [Wolfe's] preeminence, pure and simple. . . . The Book of the New Sun contains elements of Spenserian allegory, Swiftian satire, Dickensian social consciousness and Wagnerian mythology. Wolfe creates a truly alien social order that the reader comes to experience from within . . . once into it, there is no stopping."--The New York Times Book Review
About the Author
Gene Wolfe is one of the most admired and respected living writers of SF and fantasy. He is the author of The Fifth Head of Cerberus, the bestselling The Book of the New Sun tetralogy, as well as among many others including Soldier of the Mist, The Sorcerer's House, Home Fires, The Knight, The Wizard, Peace, and The Book of the Long Sun. He is also a prolific writer of distinguished short fiction, which is collected in many volumes over the last four decades, including The Best of Gene Wolfe. He received the World Fantasy Award for Life Achievement, the Edward E. Smith Memorial Award, and multiple Nebula and Locus awards, among other honors. In 2007, he was inducted into the Science Fiction Hall of Fame. In 2012, he was awarded the Science Fiction and Fantasy Writers of America Grand Master Award. He lives in Barrington, Illinois.
Praise For Sword & Citadel: The Second Half of 'The Book of the New Sun'…
"Outstanding...A major work of twentieth-century American literature." —The New York Times Book Review
"Wonderfully vivid and inventive...the most extraordinary hero in the history of the heroic epic." —Washington Post Book World
"Brilliant...terrific...a fantasy so epic it beggars the mind. An extraordinary work of art!" —Philadelphia Inquirer