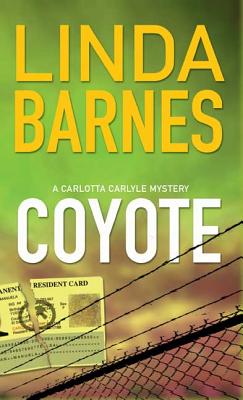 Coyote
Mass Market Paperbound

* Individual store prices may vary.
Description
When a mysterious woman asks Carlotta Carlyle to help locate her missing immigration card, it looks to be a pretty straightforward assignment. That is, until the lady disappears, and the card turns up in the possession of another woman...who just happens to be dead. Suddenly the case is far too intriguing for Carlotta to drop-and when her investigation indicates that her client was somehow connected to her inner-city "little sister" Paolina, Carlotta's got an even bigger stake in seeing it through. Alongside a handsome immigration agent with some secrets of his own, she follows her leads into the treacherous underground world of illegal aliens and those who mercilessly prey upon them. It's a lawless, dangerous territory: a place where the only thing Carlotta can rely on is her own wits, and where nothing--from innocence to life itself--is sacred...
Praise For Coyote…
"Another winner!"-Jeremiah Healy

"Carlotta Carlyle combines the sensitivity of Robert Parker's Spenser with the stubbornness of Paretsky's V.I. Warshawski, and she's rapidly carving out a place of her own."-Chicago Tribune

"One of the most engaging, eccentric heroines who ever prowled the mean streets."-Playboy

"A daunting puzzle...[Barnes's] indomitable but always human heroine...and an unflagging pace make this one a must!"-Kirkus Reviews

"The third and best Barnes novel to feature Carlyle...every step of the way, the writing is solid, the plot has a basketful of red herrings, and the characters are all thought out and finely tuned."-People

"A chilling and charming tale...Barnes has hit her stride."-Cosmopolitan

"Carlotta's pure gold!"-Publishers Weekly

"[Linda Barnes is] one of my favorites...[Coyote is] very well written...the characters are interesting, the narrative has drive...what more can one want for a rainy November evening?"-Boston Globe

"A promising American detective has come into her own and joined the small but growing lineup (Sara Paretsky's V.I. Warshawski, Sue Grafton's Kinsey Milhone) of commanding, hard-boiled heroines."-Entertainment Weekly

"A vivid, ambitious tale."-Boston Herald

"[Carlotta is] perhaps the most engaging of the new breed of female detective."-Booklist

"A thoroughly enjoyable experience...Linda Barnes has crafted a unique and memorable character in Carlotta Carlyle...well-paced plot twists and compassionate character studies."-The Nashville Banner

"Carlotta delivers on all counts. She is her own woman in all things, being both sassy and wise, with a touch of the zany and an ever-competent, ever-compassionate view of life."-Richmond Times-Dispatch
Minotaur Books, 9780312932633, 272pp.
Publication Date: March 1, 2005
About the Author
Linda Barnes is the author of ten previous Carlotta Carlyle mysteries and winner of the Anthony and American Mystery Awards. She lives in the Boston area with her husband and son.
or
Not Currently Available for Direct Purchase