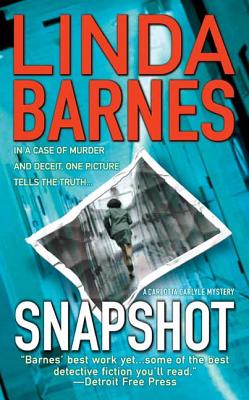 Snapshot
Mass Market Paperbound

* Individual store prices may vary.
Description
Every Friday a child's snapshot arrives at the Boston office of P.I. Carlotta Carlyle. There's no note. No return address. Just pictures of the child as a newborn, as a toddler, as a preschooler. Maybe Carlotta should have tossed them all in the trash. Maybe then she wouldn't have gotten mixed up again...in murder.
Discovering what happened to the child in the photos draws Carlotta into a shattered picture of private lives sadly out of focus-and big shots mixed up with deadly conspiracy that stretches from a New England hospital to the Third World. And when she finds her own "little sister" from the Boston Big Sisters program in a different kind of danger, the truth jumps out in harsh black and white. In a world filled with killers and innocence, Carlotta Carlyle may be the only avenging angel left....
Praise For Snapshot…
SNAPSHOT
"SNAPSHOT is destined to secure Barnes' position in the hotshot ranks of detective fiction."
-Arizona Republic

COYOTE
"Like the best of the new detectives...[Carlotta Carlyle] is a woman of wit and gravity, compassion and toughness, a heroine worth spending time with.... [Those of us] who yearn for whodunits with character as well wrought as plot, can only thank Linda Barnes."-The New York Times Book Review

"Linda Barnes is once again brilliant. Coyote is damned good."-Robert B. Parker

"Carlotta Carlyle is better than ever and Coyote is the perfect vehicle."-Sue Grafton

"Linda Barnes has another winner in Coyote...a great, only-in-Boston climax."-Jeremiah Healy

"The most refreshing, creative female character to hit mystery fiction since Sue Grafton's
Kinsey Millhone...the other first ladies of crime better watch their backs."-People

"Her first person prose is well-honed, and her touch is sure enough to float her fast-paced narrative while still allowing for sharp development of an intriguing cast of characters...best of all, Barnes can turn a phrase well enough to make even Paretsky and Grafton jealous."
-Houston Chronicle

DEEP POCKETS
"[There's] plenty to keep a reader chasing after the delightful Carlyle while she chases after the bad guys."-Entertainment Weekly

"Barnes weaves an intricate web with a pleasingly poisonous spider at its center...Barnes makes superb use of the town-grown tensions...the twists and turns in this nail-biter are at once startling without ever becoming absurd."-Publishers Weekly

"With Deep Pockets, Barnes locks in her position as one of the foremost practitioners of middle-of-the-road, character-based mystery...I suppose I could have put it down. But I didn't want to."-Orson Scott Card
THE BIG DIG
"Pure pleasure."-Kirkus Reviews

"A true page-turner...nobody knows Boston like Linda Barnes's red-haired private investigator Carlotta Carlyle...Barnes's knack for crisp, snappy dialogue, and devising a mystery that has both timeless and contemporary appeal is a winner."-Boston Herald


"Barnes grabs the detective genre by the throat but rarely lets style overtake substance. The plot is thick and original and sure to surprise."-Washington Times

"Carlotta Carlyle combines the sensitivity of Robert Parker's Spenser with the stubbornness of Paretsky's V.I. Warshawski and she's rapidly carving out a place of her own."-Chicago Tribune

"A shrewd piece of writing, well researched and smartly told."-Marilyn Stasio, The New York Times Book Review

"Carlotta is an engaging narrator with a brisk, easygoing style...a worthy competitor in the private eye business."-The Washington Post

THE SNAKE TATTOO
"A rivetingly well-told story."-Publishers Weekly

"Barnes' crisp writing and winsome cab-driving detective make this a smooth ride from start to stop...Carlyle earns rave reviews and a plea for encores."-Cincinnati Post

"Move over Spenser, make permanent room on the streets of Boston for another sleuth who's big (six feet one), strong and tough as nails but soft at the core."-Entertainment Weekly

"It's always a pleasure to spend time with this zesty detective...Carlotta has class and spirit to spare."
-Baltimore Sun
Minotaur Books, 9780312932671, 386pp.
Publication Date: June 1, 2005
About the Author
LINDA BARNES is the author of ten previous Carlotta Carlyle mysteries and winner of the Anthony and American Mystery Awards. She lives in the Boston area with her husband and son.
or
Not Currently Available for Direct Purchase