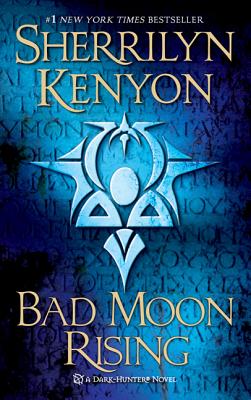 Bad Moon Rising (Mass Market Paperbound)
St. Martin's Press, 9780312934361, 468pp.
Publication Date: March 30, 2010
Description
Fang Kattalakis isn't just a wolf. He is the brother of two of the most powerful members of the Omegrion: the ruling council that enforces the laws of the Were-Hunters. When war erupts among the lycanthropes, sides must be chosen. Enemies must become allies. And Fang's one true passion is strictly forbidden
When Aimee, the Arcadian huntress he loves, is accused of betraying her people, Fang is her last and only hope. But in order to save her, he must break the laws of his people and the trust of his brothers a breach that could destroy both their races and change their world forever. "The Were-Hunter's war begins
About the Author
In the past two years, New York Times bestselling author Sherrilyn Kenyon has claimed the #1 spot twelve times, and since 2004, she has placed more than 50 novels on the New York Times list. This extraordinary bestseller continues to top every genre she writes. With more than 23 million copies of her books in print in over 30 countries, her current series include: The Dark-Hunters, The League, Lords of Avalon, BAD Agency, Chronicles of Nick and Nevermore. A preeminent voice in paranormal fiction, Kenyon helped pioneer and define the current paranormal trend that has captivated the world. She lives with her husband, three sons, a menagerie of animals and a collection of swords.
Praise For Bad Moon Rising…
PRAISE FOR SHERRILYN KENYON 
"Kenyon's writing is brisk, ironic, sexy, and relentlessly imaginative."—Boston Globe
 "[A] publishing phenomenon…[Sherrilyn Kenyon is] the reigning queen of the wildly successful paranormal scene. . .Just one example of arguably the most in-demand and prolific authors in America these days." —Publishers Weekly
AND HER BESTSELLING DARK-HUNTER NOVELS…
BAD MOON RISING
"A skillfully written and entertaining tale…rich with complex characters, snappy dialogue, and sweet moments." —Tulsa World
ACHERON
"Acheron sucks you into Kenyon's world and keeps you there from the first page until the last."—Midwest Book Review
DEVIL MAY CRY
"An engaging read."—Entertainment Weekly
SEIZE THE NIGHT
"[Kenyon]succeeds in offering a lively read containing her signature blend of brisk action, sensual thrills, and light humor." —Publishers Weekly
Advertisement