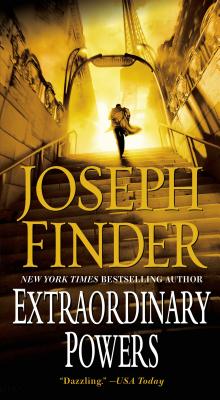 Extraordinary Powers (Paperback)
St. Martin's Paperbacks, 9780312934910, 640pp.
Publication Date: December 31, 2013
Other Editions of This Title:
Digital Audiobook (9/30/2010)
Mass Market Paperback (4/1/1995)
CD-Audio (1/19/2016)
* Individual store prices may vary.
Description
"Spectacular…The action is unrelenting…Electrifying."—Boston Sunday Herald
The news is shattering: The director of the CIA, Harrison Sinclair, has been killed in a car accident. Sinclair may have been a traitor—or the Agency's last honest man. Even his son-in-law, Ben Ellison, an attorney and ex-agent, has heard rumors of sinister forces within the Agency that could have ordered Sinclair's assassination. Soon he is thrust into a web of intrigue and violence beyond his control back into the CIA, and lured into a top-secret espionage project in telepathic ability funded by American intelligence.
"Gripping drama in which nothing is quite what it seems."—Seattle Times
As the project's first success, Ben uses his "extraordinary powers" in the perilous search for Vladimir Orlov, the exiled former chairman of the KGB—and the only man who might unlock the secret of Sinclair's death and the whereabouts of a multibillion-dollar fortune in gold spirited out of Russia in the last days of the Soviet Union. The hunt for the truth will bring Ben face to face with his past and culminate in a crowded Washington hearing room where, behind high security barriers, a Senate investigating committee is about to call its secret witness…as an assassin prepares to strike…in Joseph Finder's Extraordinary Powers.
"An extraordinary, powerful book…ingeniously plotted, fast-paced, and frighteningly credible."—Nelson DeMille
This edition of the book is the deluxe, tall rack mass market paperback.
About the Author
Joseph Finder is the author of several New York Times bestselling thrillers, including Buried Secrets, High Crimes, Paranoia and the first Nick Heller novel, Vanished. Killer Instinct won the International Thriller Writers Award for Best Thriller, and Company Man won the Barry and Gumshoe Awards for Best Thriller. High Crimes was the basis of the Morgan Freeman/Ashley Judd movie, and Paranoia was the basis for 2013 film with Liam Hemsworth, Harrison Ford and Gary Oldman. Killer Instinct is also in development as a major motion picture. Born in Chicago, Finder studied Russian at Yale and Harvard. He was recruited by the CIA, but decided he preferred writing fiction. A member of the Council on Foreign Relations and the Association for Former Intelligence Officers, he lives in Boston, Massachusetts.
Praise For Extraordinary Powers…
"Finder invents a credibly intelligent and complex protagonist…and plunges him into a dazzlingly labyrinthine adventure…Precise, crackling, tonally perfect prose." —USA Today
"A spectacular novel of international intrigue and teeth-grinding suspense…The action is unrelenting…Electrifying." —Boston Sunday Herald
"Gripping drama in which nothing is quite what it seems." —Seattle Times
"An extraordinary, powerful book…ingeniously plotted, fast-paced, and frightening credible." —Nelson DeMille
"It's a humdinger--John le Carré meets Stephen King!" —Ira Levin
"Finder winds his tale tighter and tighter as mystery is piled on mystery, intrigue on intrigue…" —Clive Cussler
or
Not Currently Available for Direct Purchase