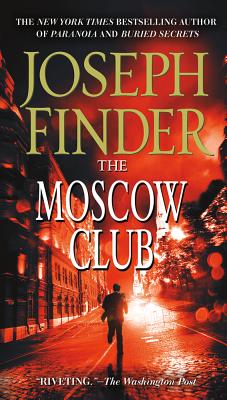 The Moscow Club (Paperback)
St. Martin's Paperbacks, 9780312934934, 624pp.
Publication Date: December 24, 2012
* Individual store prices may vary.
Description
It's 1991. The Cold War is over. Charlie Stone is a brilliant analyst for the CIA who made a name for himself during the height of the Cold War. But today his expertise is needed yet again: A top-secret tape—one that foretells a coup d'état in the Kremlin—has been smuggled out of the Soviet Union by one of a few remaining moles. Stone's assessment of the transcript is two-fold: Not only is a very real, very violent power struggle underway but the plot may be linked to an old mystery involving the imprisonment of Stone's own father. Could a McCarthy-era enemy be trying to send Stone a deadly modern message?
Soon Stone finds himself at the center of another conspiracy—framed for a grisly murder. Without proof of his innocence, Stone enters into a terrifying game of cat-and-mouse that leads him across the country, throughout Europe, and finally, to the Soviet Union. There, he will come face to face with a group of Kremlin insiders whose ruthless agenda threatens to disrupt the fragile balance of world power—and leave Stone with nowhere left to run. But before he can thwart a tragedy of epic proportions, he must put a stop to the elusive ways and means of THE MOSCOW CLUB... from New York Times bestselling author Joseph Finder.
About the Author
Joseph Finder is the author of several New York Times bestselling thrillers, including Buried Secrets, High Crimes, Paranoia and the first Nick Heller novel, Vanished. Killer Instinct won the International Thriller Writers Award for Best Thriller, and Company Man won the Barry and Gumshoe Awards for Best Thriller. High Crimes was the basis of the Morgan Freeman/Ashley Judd movie, and Paranoia was the basis for 2013 film with Liam Hemsworth, Harrison Ford and Gary Oldman. Killer Instinct is also in development as a major motion picture. Born in Chicago, Finder studied Russian at Yale and Harvard. He was recruited by the CIA, but decided he preferred writing fiction. A member of the Council on Foreign Relations and the Association for Former Intelligence Officers, he lives in Boston, Massachusetts.
Praise For The Moscow Club…
"The kind of masterfully crafted, pulse-throbbing popular entertainment that few readers will want to put down." —Boston Globe on BURIED SECRETS
"A tremendous high-wire act." —Booklist (starred review) on BURIED SECRETS
"Compulsively readable." —Publishers Weekly on BURIED SECRETS
"Numerous cliff-hangers propel the action at a breakneck pace. ..outstanding [and] engrossing." —Library Journal (starred review) on BURIED SECRETS
"Racing alongside Nick Heller, you'll want one more chapter, then another, and then one more…" —The Washington Post on BURIED SECRETS
"Thrilling." —The New Yorker on THE ZERO HOUR
"Breathlessly exciting." —Kirkus Reviews (starred review) on THE ZERO HOUR
"A labyrinth of suspense…brilliant…a master storyteller." —Pittsburgh Post-Gazette on THE ZERO HOUR
"A thinking person's thriller with bite." —Publishers Weekly (starred review) on THE ZERO HOUR
"Fast and furious." —The New York Times Book Review on HIGH CRIMES
"Exciting . . . deliciously absorbing . . . full of hair-pin turns." —The Washington Post on HIGH CRIMES
"A powerhouse tale." —Chicago Tribune on HIGH CRIMES
"Provocative and chilling." —Publishers Weekly (starred review) on HIGH CRIMES
"Rattling good entertainment." —Kirkus Reviews (starred review) on HIGH CRIMES
"If Jack Reacher met Nick Heller in a dark alley, my money's on Reacher. But it would be ugly. Or would it? Actually, I think they'd go for a beer together and set the world to rights--because Joseph Finder has given me a terrific new hero to root for. This is an action-packed, full-throttle, buy-it-today-read-it-tonight series that you definitely shouldn't miss." —Lee Child on VANISHED
"A humdinger....a thriller to enjoy for its Washington locales, convincing familiarity with cutting-edge spy gadgetry, and taut action scenes." —Washington Post on VANISHED
"Cliffhangers galore, the fascinating tradecraft of corporate espionage, and an engrossing story will propel readers through this outstanding thriller. Highly recommended as a great summer read." —Library Journal (starred review) on VANISHED
"Written in staccato chapters that are emotionally supercharged and action-packed, this thriller will more than satisfy adrenaline junkies and have them guessing until the very end." —Publishers Weekly on VANISHED
or
Not Currently Available for Direct Purchase