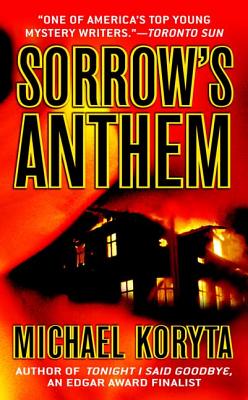 Sorrow's Anthem (Lincoln Perry #2) (Paperback)
St. Martin's Paperbacks, 9780312936600, 352pp.
Publication Date: January 2, 2007
Other Editions of This Title:
Compact Disc (11/20/2010)
Hardcover (2/7/2006)
Compact Disc (11/2/2010)
Audio Cassette (11/1/2010)
Pre-Recorded Audio Player (1/1/2011)
MP3 CD (11/20/2010)
* Individual store prices may vary.
Description
Once Lincoln Perry and Ed Gradduk were friends. Then Perry became a cop, Gradduk turned dangerous, and their friendship imploded. Now, Gradduk is dead. And Perry wants to use his PI license to prove that whatever else his childhood friend might have been, he wasn't a murderer.
For the police, this case is over. The woman Gradduk is alleged to have killed can't tell her side of the story, and the building she entered with him has burned to the ground. But Perry is making connections to a wave of arson that struck Cleveland seventeen years ago-fires that lit up the dark secrets of two families, a local powerbroker, and at least one crooked cop. Now Perry and his partner can see ties between the past and present, between innocents and criminals-and sirens that keep playing...
With an intense exploration of both character and crime, Sorrow's Anthem establishes Michael Koryta as one of the top young mystery writers in America today.
About the Author
MICHAEL KORYTA's first novel, Tonight I Said Goodbye, was published when he was just twenty-one. He lives in Bloomington, Indiana, where he began working as a newspaper reporter and for a private investigator while still in high school. Tonight I Said Goodbye won the St. Martin's Press/Private Eye Writers of America Contest for first novel and the Great Lakes Book Award for best mystery, and was a finalist for the Edgar Award for best first novel. His other novels include Envy the Night (winner of the 2008 mystery/thriller Los Angeles Times Book Prize), The Silent Hour, and Those Who Wish Me Dead.
Praise For Sorrow's Anthem (Lincoln Perry #2)…
"One of America's top young mystery writers." —Toronto Sun
"Say hello to a new crime talent." —Chicago Tribune
"Inspired by Hammett and Chandler, the 22-year-old Koryta displays the maturity of a writer with several novels under his belt, and his plot percolates with crisp dialogue that might impress Chandler himself." —Booklist (Starred Review)
"Koryta's impressive second hardboiled mystery is a worthy successor to his debut, Tonight I Said Goodbye, an Edgar and Shamus finalist....The 22-year-old author, who works for a PI and for an Indiana newspaper, displays credible insider knowledge of those professions as well as a gift for creating both sympathetic characters and a fast-moving, twisty plot." —Publishers Weekly
"[A] work of rare profundity. The multi-layered and labyrinthine plot is worthy of Raymond Chandler or (more aptly, perhaps) Ross MacDonald. And that's more than mere hyperbole; Koryta is that good." —Mystery News
"Sometimes a book grabs you and stays in your memory long after the rest of the in-box's contents have been flushed away by new arrivals. Koryta's second mystery about Cleveland private eye Lincoln Perry has this kind of hold on me...Dashiell Hammett of Red Harvest would appreciate the tangle of high-level political and police corruption of Sorrow's Anthem, but anyone who mourns for lost friendships will add a more visceral reaction." —Chicago Tribune
"Perry is an appealing fellow, and Koryta is a straightforward storyteller, but the real pleasure here is touring the back streets of C-Town....Nominated for an Edgar Award for best first novel at the age of 21, Koryta is now 22, but Sorrow's Anthem is no sophomore slump." —The Washington Post
"Koryta...receives high marks for a well-constructed plot and his particular talent at depicting action-packed scenes." —The Halifax Chronicle-Herald
"Nicely told, with the requisite genre beatings and gunplay reserved for the end and the equally requisite angst, this time over past misdeeds, front, and center." —Kirkus Reviews
"The extraordinarily vivid sense of place is made all the more palpable by the heat and humidity that can only erupt into thunder and lightening storms in a kind of arson in the sky. Lincoln Perry and his partner Joe Pritchard are perfectly orchestrated characters—the young, idealistic and sometimes brash investigator balanced against the older, seasoned pro has never been done better. The characters they encounter during their investigation are unique, fully realized and absolutely alive." —ReviewingTheEvidence.com
"[A] great follow-up to Koryta's first novel, proving that he has a lot to offer his readers in terms of engaging plot lines, intriguing characters, and edge-of-your-seat endings." —The Indianapolis Star
"[D]eeply felt and moving…could have flowed from the pens of more seasoned writers like Robert Parker…. Definitely make room on your bookshelf for Lincoln Perry's future adventures." —Independent Mystery Booksellers Association
or
Not Currently Available for Direct Purchase