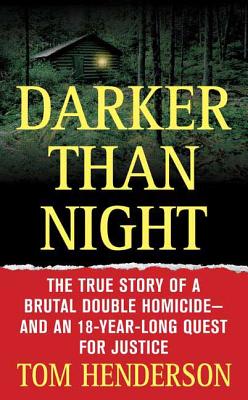 Darker than Night (Mass Market)
The True Story of a Brutal Double Homicide and an 18-Year Long Quest for Justice
St. Martin's True Crime, 9780312936761, 400pp.
Publication Date: October 3, 2006
Other Editions of This Title:
Compact Disc (4/11/2017)
MP3 CD (4/11/2017)
* Individual store prices may vary.
Description
ON A COLD, SNOWY NIGHT IN 1985, TWO MEN BEGGED FOR THEIR LIVES.
In 1985, two 27-year-old friends left their suburban Detroit homes for a hunting trip in rural Michigan. When they did not return, their families and police suspected foul play. For 18 years, no one could prove a thing. Then, a relentless investigator got a witness to talk, and a horrifying story emerged.
FOR NEARLY TWO DECADES, THEIR KILLERS WENT FREE.
In 2003, this bizarre case hit the glare of the criminal justice system, as prosecutors charged two brothers, Raymond and Donald Duvall, with murder. With no bodies ever found, the case hinged on the testimony of one terrified witness who saw a bloody scene unfold-and who was still nearly too frightened to talk.
THEN A WITNESS TOLD HER CHILLING STORY
Now, the truth behind an 18-year-old mystery is revealed against the backdrop of an unusual, electrifyingly dramatic trial. Raymond and Donald Duvall bragged to friends that they killed their victims, chopped up their bodies and fed them to pigs. A Michigan jury soon had evidence of this brutally methodical execution-evidence that would lead a shocked courtroom through the heart of evil and beyond a shadow of a doubt.
About the Author
Tom Henderson, a native of Michigan, has worked as a news reporter for many years.  He has been a sportswriter for Detroit Free Press, a freelance writer for Detroit News, and a senior editor for a monthly business publication called Corporate Detroit. He currently covers finance and technology for a weekly business publication, Crain's Detroit Business. Henderson is the author of A Deadly Affair, Blood Justice, Darker Than Night, and Afraid of the Dark.