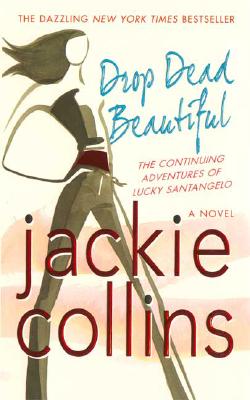 Drop Dead Beautiful (Mass Market Paperbound)
St. Martin's Press, 9780312937096, 499pp.
Publication Date: June 3, 2008
* Individual store prices may vary.
or
Not Currently Available for Direct Purchase
Description
Like mother, like daughter. No truer words for Lucky Santangelo's sixteen-year-old Max, who goes looking for trouble when she hooks up with some guy she met on the Internet. Soon the beautiful, willful Max finds herself in deeper waters than she can imagine as she becomes a pawn in a greater scheme that leads back to Lucky and Billy Melina, the studly movie-star boyfriend of Lucky's best friend, superstar Venus.
If Max's troubles weren't enough, Lucky has her multi-billion-dollar Las Vegas hotel complex to contend with...along with Anthony Bonar, the illegitimate grandson of her one-time Godfather and lethal enemy, Enzio Bonnati. So begins a non-stop thrill ride as Lucky builds her dream resort and gambles with all she holds dear. Max, too, is following her dreams, and as her high-flying triumphs prove, she's more than just a little Lucky.
About the Author
JACKIE COLLINS is one of the world's top-selling writers, with more than four hundred million copies of her books sold in more than forty countries. Her twenty-five bestselling novels have never been out of print. She lives in Beverly Hills, California.
Praise For Drop Dead Beautiful…
"Delicious!"—Cosmopolitan
"[Collins's] best yet." —Entertainment Weekly
"Max promises to grow up in future sequels as troublesome and triumphant as her glitzy mom."—Publishers Weekly
"Collins's classic can't-put-it-down style and feisty drop-dead glamorous characters transport us to a beyond-fabulous world. Yet with Jackie as our guide, we feel right at home."—Glamour
"That goddess of vengeance, Lucky, strides again."—New York Daily News
"It's so full of fun and vitality, glamour, bitchiness and murderous intent. Just when you think Jackie Collins must surely run out of puff, off she goes again."—The Mirror (5-star rating)
"Wry, cheeky, and outrageously entertaining."—Michelle Buonfiglio, Lifetime TV
"Nothing can make your summer sizzle better than a Jackie Collins novel. Her newest book is called Drop Dead Beautiful. And if history is any indication, it's bound to be yet another best seller…"—NBC News's "The Today Show"
"Breathless."—Kirkus Reviews
"Dysfunctional relationships, feuding families, and simmering vendettas, punctuated by lusty liaisons. One for fans of The Sopranos and Desperate Housewives."—The Telegraph
"The latest book in her continuing saga of Lucky Santangelo and her clan careens between Bel Air, Vegas and Mexico. Collins can still weave an entertaining spell as she visits the lives of the rich and infamous."—Romantic Times BOOKreviews
"In this big, splashy Hollywood-based novel, Collins resurrects one of her favorite characters, the hard-edged, rich, talented, and beautiful Lucky Santangelo…Collins' fans, and fans of the genre, will be clamoring for this one." —Booklist
"Pure joy from beginning to end."—Daily Express
"Drop Dead Beautiful marks Collins's 25th entry in a genre she helped to refine and raise to new heights. How fitting that this silver-anniversary publication celebrates her most popular character, a woman who lives by her wits but knows how to use her sexuality in equal measure. This is one author who knows her audience and doesn't disappoint. Each storyline is equally engrossing, which is a rarity, and zips the reader along through the ins and outs of big money dealings and high-stakes showdowns. What more could one want from a summer read?"
—Bookreporter.com
Advertisement