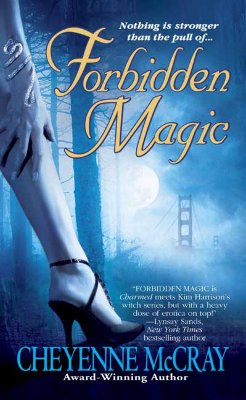 Forbidden Magic (Mass Market Paperback)
St. Martin's Paperbacks, 9780312937614, 416pp.
Publication Date: November 29, 2005
Other Editions of This Title:
Paperback (11/1/2005)
Mass Market Paperback (9/29/2009)
* Individual store prices may vary.
Description
Cheyenne McCray's paranormal romances seduce with an award-winning combination of heat and fantasy. Now, she weaves the first tale in an enthralling new series sizzling with dark magic and dangerous desires. Prepare to be spellbound by Forbidden Magic...

D'Anu witch Silver Ashcroft knows she walks a perilous line by practicing gray magic. But it's the only way to protect herself from the evil that surrounds her. After the horrors she has witnessed, Silver thinks she is ready for anything...until the most intensely arousing being she has ever encountered swiftly--and sensuously--proves her wrong...

Hawk is a Tuatha D'Danann warrior--powerful beings descended from the Fae. And for him duty has always come before pleasure. Then, clad only in moonlight, Silver Ashcroft welcomes him to her city of San Francisco and makes his blood sing with a passion beyond compare. She is the embodiment of fantasies he never knew he had, but the terrifying reality of his mission lurks in every shadow...

Only the strongest will survive the upcoming battle, and the forces of darkness are more powerful than ever. Now, warrior and witch must trust in their hearts above all else--for to claim victory, they first must claim each other...
About the Author
"New York Times" and" USA Today" bestselling author Cheyenne McCray writes the Night Tracker novels and the Armed and Dangerous series, among others. She grew up on a ranch in southeastern Arizona. She has been writing ever since she can remember, back to her kindergarten days when she penned her first poem. She always knew one day she would write novels--she wanted to create worlds that readers would get lost in, just as she had always gotten lost in her favorite books. "Growing up I read, read, and read," she says, "and grew up to write, write, write." She has three sons and two dogs. A true Arizona native, she loves the desert and all of the sunshine and beautiful sunsets that go along with it.
Praise For Forbidden Magic…
"Forbidden Magic is escapism in its truest form…I forgot about the laundry pile! The characters? Unforgettable. The chemistry? Scorching! You'll read it again and again. A yummy hot fudge sundae of a book!"
--MaryJanice Davidson, New York Times Best Selling Author of the Undead series
"Cheyenne McCray has written a sexy adventure spiced with adventurous sex."
--Charlaine Harris, New York Times bestselling author


"McCray does a remarkable job of blending the familiar and the fantastical, creating a rich paranormal world with sexy and engaging characters."
--Kelley Armstrong, New York Times bestselling author

"Erotic with a great big capitol E. Cheyenne McCray is my new favorite author!"
--Bertrice Small, New York Times bestselling author

"Forbidden Magic is a fabulous faery tale. The writing is sharp; the story hot!"
--Virginia Henley, New York Times bestselling author

"Cheyenne McCray had crafted a novel that takes the imagination on an exciting flight. Full of fantasy, with a touch of darkness, a great read for anyone who loves to get lost in a book that stretches the boundaries!"
--Heather Graham, New York Times bestselling author

"Not for the faint of heart! FORBIDDEN MAGIC is Charmed meets Kim Harrison's witch series but with a heavy dose of erotica on top!"
---Lynsay Sands, New York Times bestselling author

"McCray's magical tale will thrill and entrance you!"
---Sabrina Jeffries, New York Times bestselling author

"Cheyenne McCray's Forbidden Magic is an intoxicating blend of luscious eroticism and spine-tingling action that will have you squirming on the edge of your seat."
--Angela Knight, USA Today bestselling author

"Magical mayhem, sexy shapeshifters, wondrous witches and warlocks---In Forbidden Magic, Cheyenne McCray has created a fabulous new world. You won't be able to get enough!"
--Lori Handeland, USA Today bestselling author

"Explosive, erotic, and un-put-downable. Cheyenne McCray more than delivers!"
--L. A. Banks, bestselling author of The Vampire Huntress Legends series

"Fans of dark paranormal fantasy will enjoy the fast-paced, spine-tingling twists and turns of Cheyenne McCray's Forbidden Magic."
--Toni Blake, author of In Your Wildest Dreams

"Cheyenne McCray's Forbidden Magic is a rich mix of witches, demons, and fae in an epic tapestry full of conflict and desire...."
--Robin Owens, author of Heart Choice

"Chock-full of emotion and action, Cheyenne McCray's Forbidden Magic will find a spot on the keeper shelf of every reader who enjoys a touch of the paranormal along with her erotic romance. I highly recommend it!"
--Ann Jacobs, author of A Mutual Favor

"Cheyenne McCray has written a tempting, exciting novel rich in magic and pleasure."
--Lora Leigh, author of The Breed Next Door

"McCray's knowledge of Fae, Fomorii, elves and ancient Irish magics shines in this book of witches, warriors and dangerous desires".
--Linnea Sinclair, author of Gabriel's Ghost

"Cheyenne McCray delivers a scorching tale of modern witches and ancient Fae, a winner rich with lore, fantasy, gritty action, and heart-gripping romance."
--Annie Windsor, award-winning author of Sailmaster's Woman

"This modern day tale meets ancient world paranormal isn't just a book, it's an event. The elements all come together in this paranormal romance. You start reading for the story and end up reading for the characters. You're left at the edge of your seat needing more until the very last satisfying word. You won't be able to put it down once you start reading!"
--Sheila English, CEO of Circle of Seven Productions
or
Not Currently Available for Direct Purchase