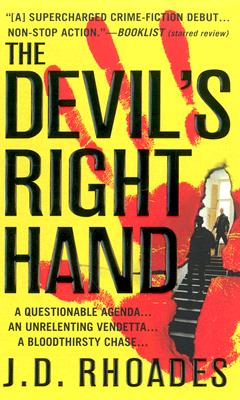 The Devil's Right Hand (Mass Market Paperback)
St. Martin's Paperbacks, 9780312938666, 352pp.
Publication Date: December 22, 2005
* Individual store prices may vary.
or
Not Currently Available for Direct Purchase
Description
Ex-cons DeWayne and Leonard thought it was a simple plan: Swipe the payroll from a local construction company and make off with easy cash. Pity they left the owner dead. Bigger pity is that the owner's son is a violent drug-dealer who's crazier than the low-caliber ex-cons
he's vowed to nail--along with anyone else who gets in his way.

Bounty hunter and war vet Jack Keller is the perfect man for his job. With a brain full of combat nightmares, he's primed for every hunt, keen for the heady scent of gunfire, and high on the release each takedown brings. His new quarry is bail-jumper DeWayne, but even Keller isn't
prepared for where this chase is going to take him.

Caught in a violent vendetta between two trigger-happy rednecks and a psycho blinded by rage, Keller's soon spiraling into a revenge plot set to explode in the North Carolina backwoods. Add to this murderous mix a local cop with his own agenda and his beautiful partner who's hot for men on the edge, and someone's bound to see hell before the night is over.
About the Author
J.D. RHOADES lives and practices law in Carthage, North Carolina, where he is at work on a follow-up to "The Devil's Right Hand."
Praise For The Devil's Right Hand…
"Rhoades slaps this supercharged crime-fiction debut into overdrive in the first paragraph and never lets up through nearly 300 pages of non-stop action."--Booklist (starred review)

"A fine example of redneck noir. Nicely crafted…if you hail from certain dark corners of the sunny South, it's the next best thing to a trip home."--Washington Post

"Enjoyable…Rhoades seems to have observed and remembered all the seedy details of life outside the centers of urban and suburban life as we know it. Nobody could totally invent this stuff."--Chicago Tribune

"The Devil's Right Hand blasts right out of the chute and keeps up the pace until the final paragraph. Steeped in Southern sense of place, the reader can feel the heat and humidity and smell the cordite hanging in the air. J.D. Rhoades writes action as well as anybody in the business, and bail bondsman Jack Keller is a winner."--C.J. Box, author of Trophy Hunt

"Spare, tense and violent, this is a debut that will turn other writers green with envy. Jack Keller is a sure-fire star of the new generation of hard-boiled heroes."--Stephen Booth, author of Blind to the Bones

"Riveting as the rack of a sawn-off shotgun, The Devil's Right Hand is a novel of pace and power, locked and loaded from the start. Bail enforcer Jack Keller, a damaged gulf war veteran, moves the heart in unexpected ways. Keller's quarry Raymond, a drug dealer bent on revenge, pledges 'no more water, but the fire next time'--and it's the fire we get on almost every page of a book that is positively aflame with action. Let's hope that J.D. Rhoades and Jack Keller are due to deliver more of the fire and soon."--Ken Bruen, author of The Guards
Advertisement