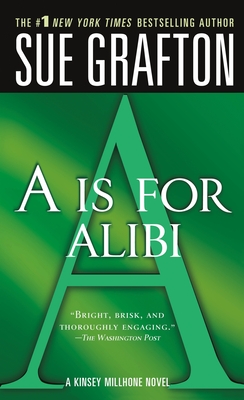 A is for Alibi (Mass Market Paperbound)
St. Martin's Press, 9780312938994, 307pp.
Publication Date: November 1, 2005
Description
READ THE SENSATIONAL BLOCKBUSTER THAT STARTED IT ALL
"Take it from the top in #"1 New York Times" bestselling author Sue Grafton's knockout thriller that introduced detective Kinsey Millhone and a hot new attitude to crime fiction "
A IS FOR AVENGER
A tough-talking former cop, private investigator Kinsey Millhone has set up a modest detective agency in a quiet corner of Santa Teresa, California. A twice-divorced loner with few personal possessions and fewer personal attachments, she's got a soft spot for underdogs and lost causes.
A IS FOR ACCUSED
That's why she draws desperate clients like Nikki Fife. Eight years ago, she was convicted of killing her philandering husband. Now she's out on parole and needs Kinsey's help to find the real killer. But after all this time, clearing Nikki's bad name won't be easy.
"A IS FOR ALIBI"
If there's one thing that makes Kinsey Millhone feel alive, it's playing on the edge. When her investigation turns up a second corpse, more suspects, and a new reason to kill, Kinsey discovers that the edge is closer and sharper than she imagined.
About the Author
Sue Grafton entered the mystery field in 1982 with the publication of 'A' Is for Alibi, which introduced female hard-boiled private investigator, Kinsey Millhone, operating out of the fictional town of Santa Teresa, (aka Santa Barbara) California. 'B' is for Burglar followed in 1985 and the series, now referred to as 'the alphabet' mysteries, is still going strong. In addition to her books, she's published several Kinsey Millhone short stories, and with her husband, Steven Humphrey, has written numerous movies for television, including "A Killer in the Family" (starring Robert Mitchum), "Love on the Run" (starring Alec Baldwin and Stephanie Zimbalist) and two Agatha Christie adaptations, "Sparkling Cyanide" and "Caribbean Mystery," which starred Helen Hayes. Grafton is published in 28 countries and 26 languages. She loves cats, gardens, and good cuisine. Sue has a home in Montecito, California, and another in Louisville, the city in which she was born and raised.
Advertisement