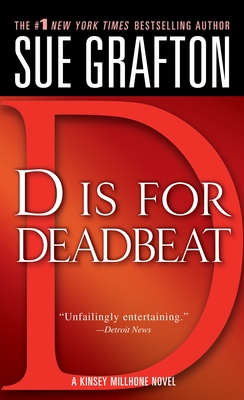 D Is for Deadbeat (Mass Market Paperbound)
St. Martin's Press, 9780312939021, 305pp.
Publication Date: November 29, 2005
Description
When Alvin Limardo walks into P.I. Kinsey Millhone's office, she smells bad news. He wants Kinsey to deliver $25,000. The recipient: A fifteen-year-old boy. It's a simple matter. So simple that Kinsey wonders why he doesn't deliver the money himself. She's almost certain something is off. But with rent due, Kinsey accepts Limardo's retainer against her better judgment
When Limardo's check bounces, Kinsey discovers she's been had big time. Alvin Limardo is really John Daggett an ex-con with a drinking problem, two wives to boot, and a slew of people who would like to see him dead. Now Kinsey is out four hundred dollars and in hot pursuit of Daggett.
When Daggett's corpse shows up floating in the Santa Teresa surf, the cops rule the death an accident. Kinsey thinks it's murder. But seeking justice for a man who everyone seemed to despise is going to be a lot tougher than she bargained for and what awaits her at the end of the road is much more disturbing than she could've ever imagined
About the Author
Sue Grafton entered the mystery field in 1982 with the publication of 'A' Is for Alibi, which introduced female hard-boiled private investigator, Kinsey Millhone, operating out of the fictional town of Santa Teresa, (aka Santa Barbara) California. 'B' is for Burglar followed in 1985 and the series, now referred to as 'the alphabet' mysteries, is still going strong. In addition to her books, she's published several Kinsey Millhone short stories, and with her husband, Steven Humphrey, has written numerous movies for television, including "A Killer in the Family" (starring Robert Mitchum), "Love on the Run" (starring Alec Baldwin and Stephanie Zimbalist) and two Agatha Christie adaptations, "Sparkling Cyanide" and "Caribbean Mystery," which starred Helen Hayes. Grafton is published in 28 countries and 26 languages. She loves cats, gardens, and good cuisine. Sue has a home in Montecito, California, and another in Louisville, the city in which she was born and raised.
Praise For D Is for Deadbeat…
"One of the things that makes Sue Grafton's Kinsey Millhone series so unfailingly entertaining is Millhone's character. She's the last one to cultivate eccentricities in the Nero Wolfe manner, and her unsentimental, loner's-eye view of herself and the world keeps her feet on the ground. But her cases often get messy because she feels things strongly. This happens again, more satisfyingly than ever, in 'D' is for Deadbeat."--The Detroit News

"Kinsey Millhone has the characteristic persistence of the good private eye who won't be deterred from digging out the truth. With skill, Grafton keeps not only her appealing detective but her readers on the edge to know more."--Ms. magazine

"Taut prose and controlled plotting make Grafton an outstanding writer of hardboiled detective stories. Social awareness and human weakness play a great part in the Millhone books, which always manage to finish with a heart-stopping climax. Well done indeed."--Library Journal
Advertisement