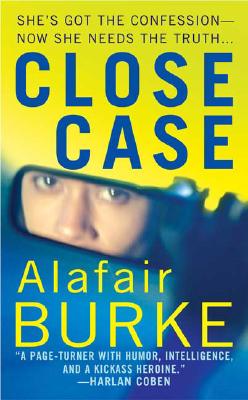 Close Case (Mass Market Paperback)
St. Martin's Paperbacks, 9780312940577, 368pp.
Publication Date: May 30, 2006
* Individual store prices may vary.
or
Not Currently Available for Direct Purchase
Description
Deputy District Attorney Samantha Kincaid likes to be where the action is: at the scene of a crime, at the arrest of a suspect, with the cops on the Major Crimes Team. But when street smart, plugged-in reporter Percy Crenshaw is brutally murdered in the midst of pursuing a major story, she knows the stakes are high
Within days, cops have a suspect; then a confession. Yet Samantha suspects that something is very wrong, and her concerns keep coming back to the police. The cop who got the confession used tough tactics. The murdered reporter was romantically linked to a cop's wife. And all of the cops she's concerned about are close to her live-in boyfriend, Detective Chuck Forbes.
Forced to prosecute a case in which the defendant may be an innocent man, Samantha must tread carefully to uncover the truth about Percy's murder -- without tearing her career, her home life, and the city apart. But just when she thinks her job can't get any more difficult, another more shocking crime comes to light...
About the Author
A former deputy district attorney in Portland, Oregon, ALAFAIR BURKE is an Associate Professor at Hofstra Law School where she teaches criminal law and procedure. She is a graduate of Stanford Law School and lives in New York City. The daughter of the acclaimed crime writer James Lee Burke, her previous novels in the Samantha Kincaid series, "Judgment Calls "and "Missing Justice," are available in paperback from St. Martin's Press.
Praise For Close Case…
"Samantha Kincaid … battles the system to solve a puzzling homicide. Daughter of crime writer James Lee Burke and herself a former deputy D.A., the author keeps the plot hurtling along." - People Magazine (in a book Pick review)

"A crackling legal thriller . . . .Burke is a former prosecutor, so she knows what she's writing about, getting the details all in place. She's also a gifted storyteller, which makes Close Case suspenseful, thought-provoking and a lot of fun." -Chicago Sun-Times

"Samantha Kincaid makes a welcome return in Close Case… As in Burke's past books, seemingly simple legal cases become anything but cut-and-dried, and their consequences are always intriguing." - The Seattle Times

"This is clearly an insider's view, authority riding on every sentence. The plot dazzles and tantalizes…. Adultery, murder, community activists, and Sam's dogged rock-the-boat tactics keep you glued to every line. Nothing is as it seems amid legal shenanigans and police camaraderie, and the shocks of the plot stun. The Burkes have become a dynasty." -- The Providence Journal (Rhode Island)

"Alafair Burke upholds her family reputation for top-notch mystery writing… There is a lot more investigating and personal back story than courtroom drama in Close Case…. Burke tells the story with great style." - Omaha World-Herald

"She's tough, clever and cantankerous as hell … In short, Samantha Kincaid is a pain in the butt… Burke has good storytelling in her genes… More please." -- The Guardian (London)

"Close Case follows Missing Justice, a novel that Burke wrote last year -- and it has the same power and suspense. -- Deseret Morning News (Salt Lake City)

"Burke delivers a fast-moving story of race and drugs and politics and prosecutors and cops and reporters -- and how the volatile mix plays out on urban streets." -- Times-Picayune (New Orleans)

"This novel brims with intelligence and suspense." - Tucson Citizen

"Close Case is the third in the Samantha Kincaid series by Burke, and in it she comes into her own as a writer. The first two books were good, with great characters and a nice sense of place…But Close Case is different. There's an ease of writing, a smoothing of the hard edges, the touches that take a writer to the next stage in development, and Alafair Burke has reached it."-- Toronto Globe and Mail

"Burke hits her stride…[A] big, bustling canvas with plausible moral dilemmas for Samantha and surprises that are still popping on the final pages."--Kirkus Reviews

"Absorbing…Burke confidently lays out the procedural details."--Publishers Weekly

"Burke's first person narration works beautifully…[a] superb legal thriller. Highly recommended."
-- Library Journal

"An enjoyable read. The well limned characters, interesting plot, believability of the crime, and the way Burke brings readers right into the investigation add to the tension and suspense."-- bookreporter.com

"[Burke] is her own writer--she hasn't tried to copy her father--and she creates strong characters and strong plots…This is a fast-moving, assured book with lots of surprises and action. Burke and Kincaid come into their own here."-- Statesman Journal

"For those fans of legal thrillers, Close Case by talented Alafair Burke will fill the bill."-- New Mystery Reader

"In addition to the very empathetic Samantha, Burke has created a number of engrossing characters…Well written, with engaging chracters, this is a very good legal mystery. Rating: A."-- Deadly Pleasures

"With this effort, Burke has found a compelling voice for protagonist Samantha Kincaid, while offering a plot with the kind of headlong rush that's the attraction of the genre…Kincaid possesses a winning combination of sweetness and vulnerability that's rather refreshing--and almost unheard of in such mysteries."-- Willamette Week

"[A] politically charged gritty thriller."-- Booklist

"Hot, hardboiled ... and highly recommended." -- Lee Child

"A terrific, multi-layered novel, one that constantly surprises and delights. Everything is just right -- the quotidian details about prosecutors, cops and reporters, the richness of the Portland setting, the seamless plotting. Alafair Burke has outdone herself." -- Laura Lippman, Author of By a Spider's Thread

"Close Case is a pageturner with humor, intelligence, and a kickass heroine. Alafair Burke just keeps getting better and better." -- Harlan Coben
Advertisement