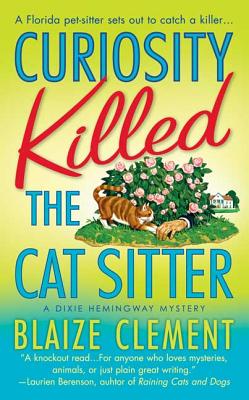 Curiosity Killed the Cat Sitter (Mass Market Paperbound)
St. Martin's Press, 9780312941925, 313pp.
Publication Date: January 2, 2007
* Individual store prices may vary.
Description
Dixie Hemingway knows first-hand that many things in life are worse than a dirty litter box. Once happy as a Florida sheriff's deputy, she lost everything when senseless tragedy shattered her world. Now Dixie laces up her sneakers, grabs some kitty treats, and copes with one day at a time as a pet-sitter. Her investigations deal strictly with "crimes" such as who peed on the bed . . . until she finds a dead man face down in an Abyssinian's water bowl. With the local cops stymied including a handsome detective who catches her eye she decides to clip a leash on a lead or two and go sleuthing herself. Dixie soon finds out that the Abyssinian's pretty owner has vanished and left behind a shocking past, a lonely cat, and a chilling reason for Dixie to start running when she's out walking the dogs.
About the Author
Blaize Clement originated the Dixie Hemingway mystery series, starting with Curiosity Killed the Cat Sitter and Duplicity Dogged the Dachshund. She collaborated with her son John Clement on the plots and characters for forthcoming novels. Blaize lived for many years in Sarasota, Florida.
Praise For Curiosity Killed the Cat Sitter…
"A knockout read . . . For anyone who loves mysteries, animals, or just plain great writing."
--Laurien Berenson, author of Raining Cats & Dogs "Clement's assured cozy debut introduces an appealing heroine."
--Publishers Weekly
 
"Impressive…a sure keeper, with well-developed characters, seamless prose, and a winning plot…[a] commendable new series."
--Mystery Lovers.com "A first-rate debut."--Booklist
 
"An entertaining debut. Dixie is a complex, well-conceived character and the plot fast-moving and believable." --Kirkus Reviews
 
"At once a cozy mystery for animal lovers and a jarringly earthy hard-boiled whodunit about human corruption. Clement's sleuth, Florida pet-sitter Dixie Hemingway, is an engaging combination of vulnerability and toughness, but the real heroine of the story is a gritty Abyssinian cat. A good read!"--Susan Conant, author of Bride and Groom and the Holly Winter Dog Lover's Mysteries
 
"Kick off your flip-flops, find a hammock, and settle in for a fun read. Clement's Floridian heroine, Dixie Hemingway, spouts laugh-out-loud one-liners and words of wisdom in this intriguing whodunit filled with twists, turns, and some pretty captivating critters!"--Cynthia Baxter, author of Lead a Horse to Murder
 
"Funny, engaging, and true to life." --Lee Charles Kelly, author of To Collar a Killer
 
"Curiosity Killed the Cat-Sitter has it all: a feisty heroine, lovable animals, and a solid whodunit. What more could you ask for?"--Barbara Seranella, creator of the Munch Mancini crime novels
 
"A fantastic who-done-it . . . Fans of fast-paced clever mysteries will appreciate Dixie's efforts to uncover the culprit before she either goes to jail or dies."--Harriet Klausner Reviews
 
"A new star in the 'mysteries with animals' firmament…this book stands out in the genre for its plotting, pacing, and well formed characters, in addition to an enticing tropical locale."--The Kingston Observer (Kingston, MA)
 
"A keeper, with its plucky protagonist, cats galore, and a nice sense of place."--Library Journal
or
Not Currently Available for Direct Purchase