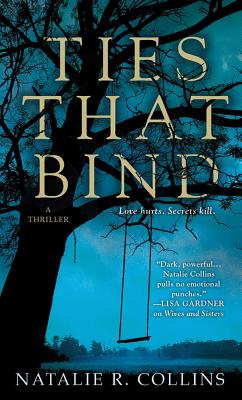 Ties That Bind (Mass Market Paperback)
St. Martin's Paperbacks, 9780312941994, 352pp.
Publication Date: July 31, 2012
* Individual store prices may vary.
or
Not Currently Available for Direct Purchase
Description
Natalie Collins
Ties That Bind
"In her acclaimed thrillers, Natalie R. Collins reveals the secrets that lurk in every town, the darkness that lies in every heart, and the ties that bind every family--till death..."
The first victim is found hanging from a tree in her backyard. A popular cheerleader in the small town of Kanesville, Utah, she appears to have committed suicide. As does the next girl...Then comes a third death, and a growing suspicion that these are not suicides at all. Police Detective Samantha Montgomery has seen her share of tragedy back in Salt Lake City--but this is different. This is methodical, planned, perfectly executed. This is the work of a serial killer.
Visiting Detective Gage Flint knows Sam from her Salt Lake City days. After a brutal case left her traumatized--and Gage broke her heart--Sam decided to return to her hometown, never thinking she'd have another chance to work with Gage...or that another case would hit so close to home. The deeper she digs into the murders, the more she uncovers about her own family's past. Somehow, the two seem connected--and Sam could be the next target of a killer's obsession...
About the Author
Natalie R. Collins is an author and journalist with more than twenty-five years' writing experience, including a long stint with the largest daily newspaper in Utah. She has served as an editor for the Sundance Film Festival, worked in advertising and human resources, and is currently working full-time as a writer and graphic designer. A lifelong resident of Utah, and raised a member of the Mormon Church, Natalie still resides there with her husband Jeff and two daughters.
Praise For Ties That Bind…
Praise for the electrifying thrillers of
NATALIE R. COLLINS
BEHIND CLOSED DOORS
"An intense, suspenseful, character-driven mystery that I couldn't put down. Collins expertly weaves a journey of self-acceptance with a page-turning mystery."—Allison Brennan, author of The Kill 
 
"Collins doesn't just treat readers to a taut, compelling mystery, she gives us a riveting look at the very heart of contemporary Mormonism. This book is not, however, fired by an apostate's anger, but rather by one pilgrim's bittersweet search for true justice, faith, and community in the wake of her own brutal loss of innocence."—Cornelia Read, author of A Field of Darkness
WIVES AND SISTERS
"Startling and compelling—I could not stop turning the pages."—Tess Garritsen, New York Times bestselling author
"Dark, powerful…Natalie Collins pulls no emotional punches crafting this searing tale of one woman's search for justice."—Lisa Gardner, New York Times bestselling author
"A white-knuckles ride all the way.  Expert depiction of a young woman's struggle with the oppressive "family values" of one kind of fundamentalism.  Newcomer Collins is a talent to watch."—Kirkus Reviews
 "By anyone's measure a gripping story, one that is hard to put down, and one that lingers in the mind long after."—Indianapolis Star

"This is a book written with skill and passion and…it will resonate with women who have never set foot inside a Mormon church."—The Washington Times

"The end of the book…was perfection itself. Wives and Sisters is clearly one of the year's best books; riveting at times, painful at times, realistic always, and completely unforgettable. It not only makes you cry, it makes you think, which is my personal hallmark of an excellent read. Natalie R. Collins has emerged as one of the finest new authors I've ever had the pleasure of reading."—Rendezvous

"Don't be surprised if you devour this book in one reading. Natalie Collins has captured the essence of a page-turner by giving us three dimensional characters, plenty of action and a healthy dose of controversy."—Midwest Book Review

"Collins…draws readers in with her strong writing and compelling plot. Wives and Sisters stirs up emotions in the reader that will resonate long after he or she has closed the book."—January Magazine
Advertisement