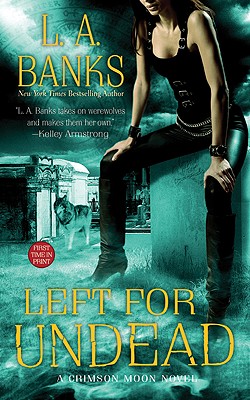 Left for Undead (Mass Market Paperback)
A Crimson Moon Novel
St. Martin's Paperbacks, 9780312943028, 304pp.
Publication Date: September 28, 2010
* Individual store prices may vary.
Description
Secret government operative Sasha Trudeau earned a long vacation with her lover and fellow Shadow Wolf, Hunter, after the brutal wolf-like attacks that left New Orleans in an uproar. But when her team calls with news of vampire slayings, Sasha knows it's only a matter of time before another war breaks out among the supernatural denizens of the world ...
The vampires are nobody's ally, but the cold-hearted deaths of their own kind make them even more bloodthirsty than usual. But who is the culprit? With the Seelie and Unseelie courts claiming innocence and aligning together, Sasha's team is at a loss. Until they discover that they're facing ancient creatures from the depths of hell itself, bent on unleashing pure fury ...
About the Author
L. A. BANKS is the author of the Vampire Huntress Legend series and the Crimson Moon Novels. She had a bachelor's degree from the University of Pennsylvania's Wharton School of Business and a master's in fine arts from Temple University. Banks considered herself a shape-shifter. She wrote romance, women's fiction, crime and suspense, and of course, dark vampire huntress lore. She lived with her daughter in an undisclosed lair somewhere in Philadelphia.
Praise For Left for Undead: A Crimson Moon Novel…
Praise for L. A. Banks
UNDEAD ON ARRIVAL
"The intensity and pressure continue in the Crimson Moon series as this briskly paced supernatural thriller races toward its climactic confrontation. For these protagonists, treachery and sabotage may spell their doom; for readers, it spells hours of pure pleasure. Banks rules!"—Romantic Times BOOKreviews (4 ½ stars)
BITE THE BULLET
"The second book of Banks'electrifying werewolf saga [is] part special ops thriller, part supernatural adventure…Utilizing her storytelling flair, Banks imbues her characters with both nobility and kick-ass attitude. It doesn't get much better than this!"—Romantic Times BOOKreviews (4 1/2 stars)
"Tension, lots of action and a current of sensuality…a novel that will provide hours of electric entertainment."—Singletitles.com
"Filled with action, this fast-moving read is as powerful as the first, and will keep fans coming back for more."—Darque Reviews
BAD BLOOD
"Super-talented Banks launches the complex and darkly thrilling new Crimson Moon series, which bursts with treachery and supernatural chills. The plot intricacies are carefully woven throughout, but Banks piles on the danger, making this one exciting thrill ride!" —Romantic Times BOOKreviews (4 ½ stars)
"Banks takes on werewolves and makes them her own…A blast to read."—Kelley Armstrong
"Shadowy, sexy, intense."—Cheyenne McCray
"An action-packed thrill ride!" —#1 New York Times bestselling author Sherrilyn Kenyon 
Coverage from NPR
or
Not Currently Available for Direct Purchase