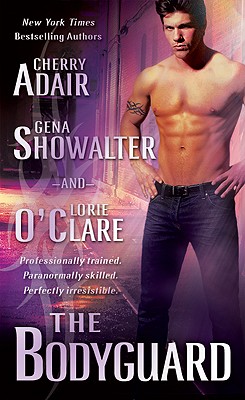 The Bodyguard (Mass Market Paperback)
St. Martin's Paperbacks, 9780312943233, 352pp.
Publication Date: June 29, 2010
* Individual store prices may vary.
Description
"Temptation on Ice"
When paranormal operative Sebastian Tremayne heads to the Arctic Circle to keep an eye on red-hot physicist Michaela Giese, the polar ice cap isn't the only thing in danger of melting. This beautiful brainy woman could spark a nuclear disaster he cannot stop even with magic and ignite a fiery passion he cannot resist
"Temptation in Shadows"
Tall, lean, muscular and definitely rough around the edges Sean Walker is not your typical nightclub bodyguard. He's a controller of shadows, able to wield darkness at will. But when a mysterious woman at the club turns out to have powers greater than his own, he has no choice but seduction
"Hunting Temptation"
A manhunter by trade, Seth is on the trail of his most dangerous prey yet: a living, breathing, maneating werewolf. But the last thing he expects to catch in his trap is a beautiful, beguiling woman with some wild animal urges of her own
About the Author
CHERRY ADAIR writes "New York Times" bestselling action-adventure romance novels, including her T-FLAC series about counter-terrorism operatives. In 2005, she won the "Romantic Times" Reviewer's Choice Award for Romantic Suspense. Cherry used to work as an interior designer, and her favorite part of the writing process is the decorating stage, what she calls "the minutia of the last tweak, the last spit polish before sending it off to my editor." Born in Cape Town, South Africa, she lives with her husband David live in their dream home in the Pacific Northwest.GENA SHOWALTER is the "New York Times" and "USA Today" bestselling author of novels including The Lords of the Underworld series. She writes in a thrilling blend of genres: paranormal and contemporary romances, cutting edge young adult novels, and urban fantasy. She lives in the South with her family and three slobbery English bulldogs. LORIE O'CLARE is an award-winning erotic romance author of more than 40 books, including "Tall, Dark and Deadly"; "Strong, Sleek and Sinful"; "Long, Lean, and Lethal"; "Get Lucky" and "Play Dirty." Her stories range from the wild lives of werewolves to the passionate and thrilling world of romantic suspense. An EPPIE and "Romantic Times" Reviewers' Choice Award winner, she lives in Kansas with her three boys and two dogs, a Boston terrier and a beagle.
Praise For The Bodyguard…
"Three exciting and intriguing stories about people with extraordinary powers show how love can find a way, no matter the circumstances." -- RT Book Reviews "The Bodyguard takes three talented authors and gives us a compilation of paranormal stories that are brilliantly written.  Each one is uniquely different and page turning at it's best." -- Single Titles "If you're looking for a great paranormal romantic suspense make sure to pick-up this book ... Three great authors, three great stories…it's a must read." -- Night Owl Reviews
or
Not Currently Available for Direct Purchase