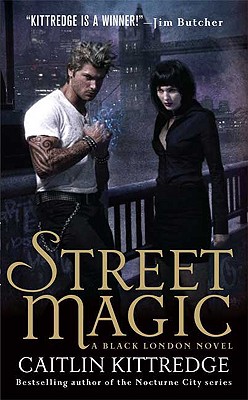 Street Magic (Mass Market Paperbound)
St. Martin's Press, 9780312943615, 335pp.
Publication Date: June 2, 2009
* Individual store prices may vary.
Description
Her name is Pete Caldecott. She was just sixteen when she met Jack Winter, a gorgeous, larger-than-life mage who thrilled her with his witchcraft. Then a spirit Jack summoned killed him before Pete's eyes or so she thought. Now a detective MSOffice2], Pete is investigating the case of a young girl kidnapped from the streets of London. A tipster's chilling prediction has led police directly to the child but when Pete meets the informant, she's shocked to learn he is none other than Jack. Strung out on heroin, Jack a shadow of his former self. But he's able to tell Pete exactly where Bridget's kidnappers are hiding: in the supernatural shadow-world of the fey. Even though she's spent years disavowing the supernatural, Pete follows Jack into the invisible fey underworld, where she hopes to discover the truth about what happened to Bridget and what happened to Jack on that dark day so long ago
About the Author
Caitlin Kittredge is the author of the Nocturne City and Black London series, as well as several short stories. She started writing novels at age 13, and after a few years writing screenplays, comic books and fan-fiction, she wrote "Night Life," her debut novel. She is the proud owner of an English degree, two cats, a morbid imagination, a taste for black clothing, punk rock, and comic books. She's lucky enough to write full time and watches far too many trashy horror movies. She lives in Olympia, Washington.
Praise For Street Magic…
Praise for STREET MAGIC:  "The first in the Black London series, this dark tale takes supernatural shadows to the next level…Kittredge knows how to create a believable world, and her fans will enjoy the mix of magic and city grit."  --Publishers Weekly "Sensual and empowering, STREET MAGIC is an urban fantasy keeper of a tale.  Magic, mayhem, the action never stops, I engulfed every single word and can't wait to go back for more." --Romance Junkies "Atmospheric and filled with a gritty realism...the novel crackles with conflict and perilous magic.  For those who love their urban fantasy hypnotically treacherous, this book's for you!" (4 1/2 stars) --Romantic Times BOOKreviews "Kittredge introduces readers to the dark side of life and magic in a well-formed fictional world with characters that you can't help but like.  STREET MAGIC jumps right in to non-stop supernatural action, taking urban fantasy fans on a wild and bumpy ride.  I'll be looking forward to seeing where Pete and Jack lead us next." --Darque Reviews
Praise for the Nocturne City series:
"Kittredge is a winner!"—Jim Butcher
"Fast-paced, sexy and witty with many more interesting characters than I have time to mention." --Fresh Fiction
"Dark and cutting edge." —Romantic Times
"Smart, gutsy."—Karen Chance
 "Hot, hip, and fast-paced."—Lilith Saintcrow
or
Not Currently Available for Direct Purchase