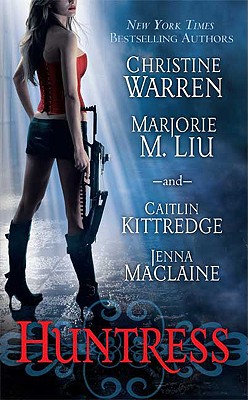 Huntress
Mass Market Paperbound

* Individual store prices may vary.
Description
Christine Warren
"Devil's Bargain"
Supernatural bounty hunter Lilli Corbin made a pact with the Prince of Hell: She agreed to recover a book of prophecies. When she learns it could trigger the apocalypse, Lilli is forced to make the ultimate choice: save her soul, or the man she loves?
Marjorie M. Liu
"The Robber Bride"
Welcome to a post-apocalyptic world where women are fed on for their life forces. Now it's up to Maggie, one of the last female survivors, to hunt down and destroy an army of darkness
Caitlin Kittredge
"Down in the Ground Where the Dead Men Go"
Ava is a demon slayer who needs help from mage Jack Winter to reach the demon underworld a place of dark seduction and, maybe, one of no return.
Jenna Maclaine
"Sin Slayer"
London 1889. Jack the Ripper is killing off the city's vampire population, and now it's up to Cin Craven to hunt him down and save the infected Michael, the love of her undead life.
St. Martin's Press, 9780312943820, 342pp.
Publication Date: June 30, 2009
About the Author
Christine Warren is the bestselling author of The Others series, including Wolf at the Door, Big Bad Wolf, Born to Be Wild, Prince Charming Doesn't Live Here, and Black Magic Woman. Born and raised in coastal New England, she now lives as a transplant in the Pacific Northwest. (She completely bypassed those states in the middle due to her phobia of being landlocked.) When not writing, she enjoys horseback riding, playing with her pets, identifying dogs from photos of their underbellies, and most of all reading things someone else had to agonize over.Marjorie M. Liu resides in the Midwest. She is the author of the New York Times bestselling Hunter Kiss series and the USA Today bestselling Dirk and Steele series. Caitlin Kittredge is the author of the Nocturne City and Black London series, as well as several short stories. She lives in Olympia, Washington.Jenna Maclaine has a degree history from North Georgia College & State University. The author of the Cin Craven series novels, she spends her time caring for the 90+ animals that share her family farm in the foothills of the Blue Ridge Mountains.
or
Not Currently Available for Direct Purchase