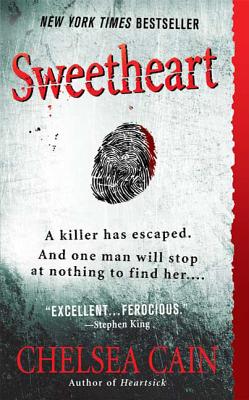 Sweetheart (Mass Market Paperbound)
St. Martin's Press, 9780312943837, 338pp.
Publication Date: September 1, 2009
* Individual store prices may vary.
or
Not Currently Available for Direct Purchase
Description
Portland detective Archie Sheridan, the former head of the Beauty Killer Task Force, hunted Gretchen Lowell for years before she kidnapped him, tortured him, and then let him go. Now that she is behind bars, Archie is finally piecing his life back together. He's returned home to his ex-wife and their two children. But no matter how hard Archie tries, he just can't stop thinking about Gretchen
When the body of a young woman is discovered in Forest Park, Archie is reminded of the first corpse he discovered there a decade ago: it turned out to be the Beauty Killer's first victim, and Archie's first case. Then, the unthinkable happens: Gretchen escapes from prison, and once the news breaks, all of Portland goes on high alert but secretly, Archie is relieved. He knows he's the only one who can capture Gretchen and now he has a plan to get out from under her thumb once and for all. Even if it means becoming her last victim
About the Author
Chelsea Cain is the New York Times bestselling author of The Night Season, Evil at Heart, and Heartsick. Both Heartsick and Sweetheart were listed in Stephen King's Top Ten Books of the Year in Entertainment Weekly. Chelsea lived the first few years of her life on an Iowa commune, then grew up in Bellingham, WA, where the infamous Green River killer was "the boogieman" of her youth. The true story of the Green River killer's capture was the inspiration for the story of Gretchen and Archie. Cain lives in Portland with her husband and daughter.
Praise For Sweetheart…
"Superb...With its brisk pacing, carefully metered violence and tortured hero, Cain's sophomore effort will leave readers desperate for more."—Publishers Weekly (starred review)
"Cain's debut Heartsick had even the most jaded thriller fans sleeping with the lights on. She tells an equally frightening story in Sweetheart."—USA Today
"Profoundly creepy and disturbing."—The Boston Globe
"A sharp psychological inquiry into evil and obsession, as well as a deeply unhealthy love story."—The Seattle Times
Advertisement