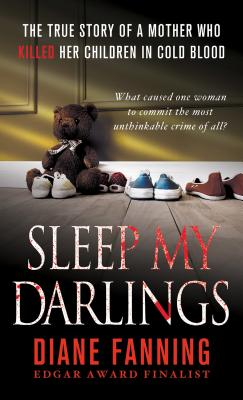 Sleep My Darlings (Paperback)
The true story of a mother who killed her children in cold blood
St. Martin's True Crime, 9780312945084, 208pp.
Publication Date: April 30, 2013
* Individual store prices may vary.
Description
SLEEP MY DARLINGS
Diane Fanning
On January 28, 2011, the Tampa Police Department received a phone call from a woman who was worried about her daughter, Julie Schenecker. A devoted Army wife and mother of two, Julie had sent her mother an email that could be described as "suicidal." When authorities arrived at the Schenecker home, they encountered a horrific scene…
Sixteen-year-old Calyx and thirteen-year-old Beau Schenecker were found dead—both of them shot, then covered with blankets. Upon questioning, Julie admitted that she was "tired of the kids talking back" and just "wanted it to be over." Had her manic depression driven her to the point of insanity? Or was hers a case of cold, calculated violence and manipulation? This is the shocking true story of motherhood, mental illness, and two charges of murder in the first degree.
About the Author
Diane Fanning is the author of the Edgar Award finalist Written in Blood: A True Story of Murder and a Deadly 16-Year-Old Secret That Tore a Family Apart. Her other works of true crime include the best-selling Mommy's Little Girl, A Poisoned Passion, The Pastor's Wife, Gone Forever and Through the Window. She has been featured on 48 Hours, 20/20, Court TV and the Discovery Channel, and has been interviewed on dozens of radio stations coast to coast. Before becoming a nonfiction writer, Fanning worked in advertising, and she earned more than 70 Addy Awards. She lives in New Braunfels, Texas.
or
Not Currently Available for Direct Purchase