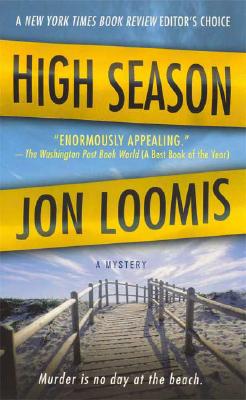 High Season (Mass Market Paperback)
Minotaur Books, 9780312945213, 304pp.
Publication Date: July 1, 2008
* Individual store prices may vary.
Description
Frank Coffin had been a well-respected Baltimore homicide detective. But when he started having panic attacks at crime scenes, he was forced to go home to Cape Cod, where the worst crimes were usually break-ins, bicycle thefts, and domestic disputes. That is, until a vacationing televangelist turns up dead on the beach wearing a wig, a muumuu, and one size-twelve pump. Not to mention the raspberry-colored taffeta scarf strangling his neck.
Frank and his partner, Officer Lola Winters, begin checking out the drag bars and isolated trysting spots the reverend might have frequented. However, when the body count starts to rise, ,it becomes alarmingly clear that a killer with an agenda is at large in Provincetown. And Coffin's fears—like unwelcome summer tourists—have returned in full force…
About the Author
Jon Loomis is the author of two collections of poetry, "Vanitas Motel, "which won the 1997 FIELD Poetry Prize, and "The Pleasure Principle."""Twice a Writing Fellow at the Fine Arts Work Center in Provincetown, Loomis has also been awarded the Jay C. and Ruth Halls Fellowship in Poetry at the University of Wisconsin, and has been the recipient of grants from the Ohio Arts Council and the Virginia Commission for the Arts. He lives with his wife and son in west-central Wisconsin. "High Season" is his first novel.
Praise For High Season…
 "[AN] ENTERTAINING WHODUNIT…WITH AN EASYGOING SLEUTH."—MARILYN STASIO, THE NEW YORK TIMES BOOK REVIEW
"[A] darkly comic Cape Cod caper…razor-sharp."—Chicago Tribune
"Loomis, a prize-winning poet in his other literary life, tosses off some wonderful descriptions ... yet none of his wordsmithery gets showy or interferes with this debonair, dry little mystery. With his honed sense of humor and keen mise en scene, Loomis is a keeper." —The Washington Post
"A model mystery, told in winning fashion."—Richmond Times-Dispatch
"In High Season, Jon Loomis absolutely nails Provincetown, arguably the funkiest and most interesting town in the United States, and stakes it out for what I hope will be many more Frank Coffin yarns to come.  Loomis is a terrific writer. He's funny and wise, and he knows how to build tension."—William G. Tapply, author of One-Way Ticket

"Full of entertaining twists and sly observations, this is a perfect book for late summer reading."—Publishers Weekly
"High Season is much like Provincetown, a gleeful mélange of joyous contradictions and peculiar characters in a community with a dark underbelly and glittery joie de vivre."—The Cape Codder
"Written with humor and pathos and incorporating small-town philosophy, this is a terrific mystery debut."
—Library Journal
"Witty, gritty, and full of unforgettably colorful characters, High Season is a highly impressive debut!" —Chris Grabenstein, author of Whack-A-Mole
"Very funny and very tense. A great read."—Booklist (starred review)
"Loomis steadily raises the tension and keeps you guessing almost till the end, making High Season
a fun read."—Bay Windows
"Loomis writes with warmth and wisdom, auguring well for further Coffin adventures." —Kirkus Reviews  
"High Season is peppered with some juicy glimpses into good and bad, evil pitted against 'right,' and
in the telling you can see that the author had some fun with his subject.—The Provincetown Banner
or
Not Currently Available for Direct Purchase