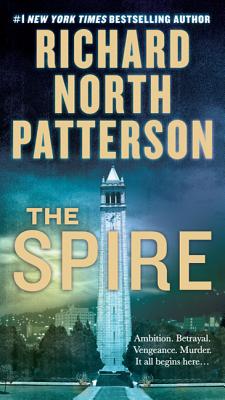 The Spire (Mass Market Paperbound)
St. Martin's Press, 9780312946395, 485pp.
Publication Date: April 27, 2010
* Individual store prices may vary.
or
Not Currently Available for Direct Purchase
Description
Mark Darrow grew up in small-town Ohio with no real advantages. But thanks to Lionel Farr, a professor at a nearby college, Darrow became an excellent scholar/athlete and, later, a superb trial lawyer. Now Farr offers his protege a job as his alma mater's new president, which Darrow accepts. But being back on campus opens old wounds. Sixteen years ago, on the night of his greatest football triumph, Darrow found the body of a black female student at the base of the college bell tower, known as the Spire
Darrow's best friend was charged with the murder, and was sent to prison for life. But Darrow is about to discover that the case against his college friend left crucial questions unanswered. Despite his new obligations and his deepening attachment to Farr's beautiful though troubled daughter Darrow begins an inquiry into the murder and is soon convinced that the real killer is still at large and that his own life is surely at risk.
About the Author
RICHARD NORTH PATTERSON is the author of Degree of Guilt, Eclipse, The Race, Exile, and more than a dozen other bestselling and critically acclaimed novels. Formerly a trial lawyer, he was the SEC liaison to the Watergate special prosecutor and has served on the boards of several Washington advocacy groups. He lives on Martha's Vineyard and in San Francisco and Cabo San Lucas with his wife, Dr. Nancy Clair.
Praise For The Spire…
DEGREE OF GUILT
"A page-turner."—The New York Times Book Review
"Compulsively readable."—People
"One intense courtroom clash after another...An intelligent and gripping thriller."—The Washington Post
"Flamboyant and entertaining."—The Boston Globe
"Electrifying."—The Cleveland Plain Dealer
"One of the year's best thrillers…Superb characterizations and intense dialogue make this utterly compelling reading."—Library Journal
"Absorbing."—Publishers Weekly
ECLIPSE
"Passionate…exciting [and] eye-opening, page by page."—Washington Post
"Compelling and credible…guaranteed to rouse you to thought."—Richmond Times-Dispatch
"This stellar legal thriller both informs and entertains… Patterson has exerted all his considerable skill in creating a nightmare atmosphere that will cling to readers long after the last page is turned."—Publishers Weekly (starred review)
"A satisfying fable that pits a hero who deeply believes in the rule of law against a violent, lawless regime that holds all the cards."—Kirkus Reviews
"Nearly flawless—by the time you realize how well Patterson is writing, you are already caught up in this novel."—San Francisco Chronicle
"Suspenseful—pervasive danger as real as the actual reality."—New York Daily News
"A terrific legal thriller populated by rich, well drawn characters [Patterson] magnificently brings to life. Not to be missed."—Providence Sunday Journal
"Fascinating."—Booklist
"[A] compelling legal thriller, reminiscent of Exile. Patterson once again brings a timely, controversial subject—America's dependence on foreign oil—to the forefront in this…engrossing read." —Library Journal
 THE RACE
"An electrifying page-turner."—Seattle Post-Intelligencer
"Patterson has redefined himself as a writer willing to take risks."—USA Today
"Absorbing and suspenseful."—Publishers Weekly
"Required reading."—New York Post
"With verve, intelligence, passion and humanity, Patterson tells an important story—and one that may find a place with Advise and Consent and Seven Days in May on the shelf of honored political thrillers."—Richmond Times-Dispatch
"Absorbing…timely…a gripping read."—Booklist      
"Will get your blood boiling…"—Grand Rapid Press
"A timely, fast-paced political yarn....Highly recommended." —Library Journal (starred review)
"A slick new entertainment…Frank Capra idealism meets Karl Rove reality."—Entertainment Weekly
EXILE
"Torn from the headlines…Exile delivers."—The New York Times Book Review
"Artful…compelling."—USA Today
"Astonishing, hugely entertaining."—Bill Clinton
Advertisement