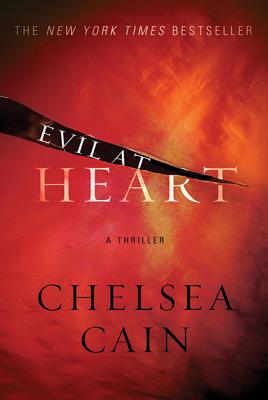 Evil at Heart
A Thriller (Archie Sheridan & Gretchen Lowell #3)
Paperback

* Individual store prices may vary.
Other Editions of This Title:
Digital Audiobook (8/31/2009)
Description
Chelsea Cain's novels featuring Portland detective Archie Sheridan and serial killer Gretchen Lowell have captivated fans through two New York Times bestselling entries, Heartsick and Sweetheart.

And Gretchen Lowell is still on the loose. These days, she's more of a cause célèbre than a feared killer, thanks to sensationalist news coverage that has made her a star. Her face graces magazine covers and there have been sightings of her around the world. Most shocking of all, Portland Herald reporter Susan Ward has uncovered a bizarre fan club that celebrates the number of days she's been free.

Archie Sheridan hunted Gretchen for a decade, and after his last ploy to catch her went spectacularly wrong, he remains hospitalized months later. When they last spoke, they entered a détente of sorts-Archie agreed not to kill himself if she agreed not to kill anyone else. But when a new body is found accompanied by Gretchen's trademark heart, all bets are off and Archie is forced back into action. Has the Beauty Killer returned to her gruesome ways, or has the cult surrounding her created a whole new evil?

With Evil at Heart, Chelsea Cain­ is in top form. Delivering heart-stopping thrills and chills, she is an unmatched master of suspense.
Praise For Evil at Heart: A Thriller (Archie Sheridan & Gretchen Lowell #3)…
"She's the most twisted--and most beautiful--serial killer on the planet, and she's back... It's not to be missed." —USA Today

"You have to hand it to Cain, who's made the serial-killer genre a thoroughly female-friendly experience. . . . [She] churns stomachs with a delicate touch." —The New York Times Book Review

"Remember the old debate about which is mightier, the pen or the scalpel? In Evil at Heart, both are in the same hands, and both cut all the way to the bone." —Oregonian
Minotaur Books, 9780312946784, 320pp.
Publication Date: August 31, 2010
About the Author
Chelsea Cain is the New York Times bestselling author of The Night Season, Evil at Heart, Sweetheart, and Heartsick. Both Heartsick and Sweetheart were listed in Stephen King's Top Ten Books of the Year in Entertainment Weekly. Chelsea lived the first few years of her life on an Iowa commune, then grew up in Bellingham, WA, where the infamous Green River killer was "the boogieman" of her youth. The true story of the Green River killer's capture was the inspiration for the story of Gretchen and Archie. Cain lives in Portland with her husband and daughter.