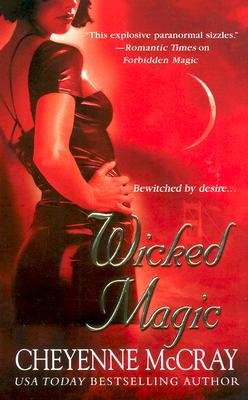 Wicked Magic (Mass Market Paperback)
St. Martin's Paperbacks, 9780312949570, 384pp.
Publication Date: August 28, 2007
* Individual store prices may vary.
Description
Rhiannon Castle is a D'Anu witch whose is a D'Anu witch whose Coven sisters know nothing of the Shadows that lurk within her. Rhiannon can't reveal the truth to anyone--least of all Keir, a rugged warrior soldier who walks into Rhiannon's life and awakens her to a wanton reckless desire…

Keir's Tuatha D'Danann Tuatha D'Danann brethren are the only real family he has ever known. He trusts no one--until he is sent to San Francisco and meets Rhiannon, the one woman with fire enough to tame him. Every seductive encounter convinces Keir that she belongs with him--even though Rhiannon knows her powers could put him in peril…

And then a new threat rises from the depths of the Underworld. When a demon goddess unleashes her evil upon our world, Rhiannon's secret could prove the ultimate weapon in this epic battle--or forge a pathway to destruction for the only man she's ever loved…


About the Author
"New York Times" and" USA Today" bestselling author Cheyenne McCray writes the Night Tracker novels and the Armed and Dangerous series, among others. She grew up on a ranch in southeastern Arizona. She has been writing ever since she can remember, back to her kindergarten days when she penned her first poem. She always knew one day she would write novels--she wanted to create worlds that readers would get lost in, just as she had always gotten lost in her favorite books. "Growing up I read, read, and read," she says, "and grew up to write, write, write." She has three sons and two dogs. A true Arizona native, she loves the desert and all of the sunshine and beautiful sunsets that go along with it.
Praise For Wicked Magic…
"Magical mayhem, sexy shapeshifters, wondrous witches and warlocks…Cheyenne McCray has created a fabulous new world. You won't be able to get enough!"
--Lori Handeland, USA Today bestselling author
or
Not Currently Available for Direct Purchase