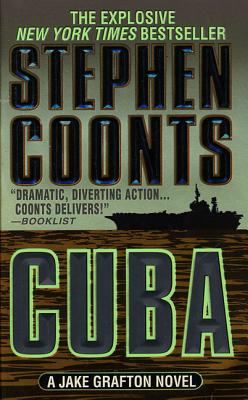 Cuba (Paperback)
A Jake Grafton Novel (Jake Grafton Novels #7)
St. Martin's Paperbacks, 9780312971397, 461pp.
Publication Date: May 15, 2000
Other Editions of This Title:
Paperback (5/1/2000)
Compact Disc (5/5/2015)
MP3 CD (5/6/2014)
Compact Disc (5/6/2014)
Compact Disc (5/6/2014)
* Individual store prices may vary.
Description
Stephen Coonts' bestelling novels takes readers into the heart of harrowing, pulse-pounding action, whether on land, on sea, or in the air. Now, this master of full-tilt, blockbuster suspense turns into a lush setting 90 miles from U.S. soil. In Cuba, Fidel Castro lies dying. Human sharks are circling. And one man has his finger on the trigger of a weapon that will change everything...
Admiral Jake Grafton is overseeing a shipment of nerve gas being transferred for a top-secret U.S. stockpile at Guantanamo Bay. But a power struggle inside Cuba has ignited an explosive plot and turned a horrific new weapon on the U.S. Now, Jake must strap himself into the cockpit of a new generation of American aircraft and fly blind into the heart of an island that is about to blow--and take the whole world with it...
About the Author
Stephen Coonts is the author of The Disciple, The Assassin, and the Deep Black and Saucers series, among many other bestsellers. His first novel, the classic flying tale Flight of the Intruder, spent more than six months at the top of The New York Times bestseller list. A motion picture based on the book was released in 1991. His novels have been published around the world and translated into more than a dozen languages. In 1986, he was honored by the U.S. Naval Institute with its Author of the Year Award. He is also the editor of four anthologies, Combat, On Glorious Wings, Victory and War in the Air. Coonts served in the Navy from 1969 to 1977, including two combat cruises on the USS Enterprise during the last years of the Vietnam War.
Praise For Cuba: A Jake Grafton Novel (Jake Grafton Novels #7)…
"Dramatic, diverting action...Coonts delivers." —Booklist
"[A] gripping and intelligent thriller." —Publishers Weekly (starred review)
"Coonts manages to put together the various subplots into a satisfying climax that includes enough Tomahawk missiles, stealth bombers and staccato action to satisfy his most demanding fans." —USA Today
or
Not Currently Available for Direct Purchase