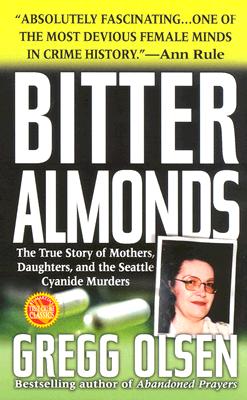 Bitter Almonds (Mass Market Paperbound)
The True Story of Mothers, Daughters, and the Seattle Cyanide Murders
St. Martin's True Crime, 9780312982003, 576pp.
Publication Date: August 1, 2006
* Individual store prices may vary.
Description
Stella Nickell's small-time world was one of big-time dreams. In 1986, her biggest one came true when her husband died during a seizure, making her the beneficiary of a $175,000-plus insurance payoff until authorities discovered Bruce Nickell's headache capsules had been laced with cyanide. In an attempt to cover her tracks, Stella did the unconscionable. She saw to it that a stranger would also become a "random casualty" of cyanide-tainted painkillers. But Stella's cunning plan came undone when her daughter Cynthia notified federal agents. And troubling questions lingered like the secret of bitter almonds...
What would turn a gregarious barfly like Stella into a cold-hearted killer overnight? Why would Cynthia, a mirror image of her mother, turn on her own flesh and blood? Did Cynthia reveal everything she knew about the crimes? The stunning answers would unfold in a case that sparked a national uproar, dug deep into a troubled family history, and exposed an American mother for the pretty poison she was.
Gregg Olsen's "Bitter Almonds" is true crime writing at its best.
About the Author
Gregg Olsen has been a journalist and investigative author for more than twenty years. He is the recipient of numerous writing, editing, and photojournalism awards, including citations of excellence from the Society of Professional Journalists (Sigma Delta Chi), the International Association of Business Communicators, Washington Press Association, Society of Technical Communication, and the Public Relations Society of America.A resident of Washington state, Olsen has been a guest on dozens of national and local television shows, including educational programs for the History Channel, Learning Channel, and the Discovery Channel. Olsen also appeared several times on "CBS's 48 Hours, MSNBC's Special Edition, Entertainment Tonight, Sally Jesse Raphael, Inside Edition, "and "Extra." He has been featured in "USA Today, Salon Magazine, Seattle Times, "and "the New York Post."
Praise For Bitter Almonds: The True Story of Mothers, Daughters, and the Seattle Cyanide Murders…
"Absolutely fascinating...one of the most devious female minds in crime history."--Ann Rule

""[A] truly remarkable book. The trailer park babes of Bitter Almonds leap off the page, fingernails sharpened and aimed for your eyes."--Jack Olsen, author of Son: A Psychopath and His Victims and "I": The Creation of a Serial Killer