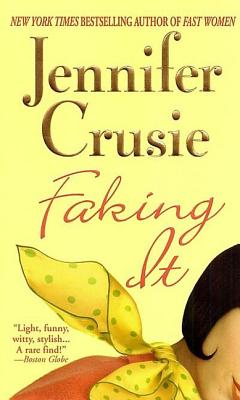 Faking It (Mass Market)
St. Martin's Paperbacks, 9780312983826, 432pp.
Publication Date: April 14, 2003
Other Editions of This Title:
Paperback (3/29/2011)
Compact Disc (10/27/2015)
Compact Disc (3/9/2010)
Compact Disc (3/9/2010)
Pre-Recorded Audio Player (9/1/2009)
MP3 CD (6/10/2004)
* Individual store prices may vary.
Description
LOVE AND DECEPTION HAVE A LOT IN COMMON.
Meet the Goodnights, a respectable family who run a respectable art gallery-and have for generations. There's Gwen, the matriarch who likes to escape reality, Eve the oldest daughter who has a slight identity problem (she has two), Nadine, the granddaughter who's ready to follow in the family footsteps as soon as she can find a set that isn't leading off a cliff. And lastly, Matilda, the youngest daughter, has inherited the secret locked down in the basement of the Goodnight Gallery, the secret she's willing to do almost anything to keep, even break into a house in the dead of night to steal back her past.
THE RISKS ARE INTOXICATING.
Meet the Dempseys, or at least meet Davy, a reformed con man who's just been ripped off for a cool three million by his financial manager, who then gallantly turned it over to Clea Lewis, the most beautiful sociopath Davy ever slept with. Davy wants the money back, but more than that he'll do anything to keep Clea from winning, including break into her house in the dead of night to steal back his future.
AND IF YOU'RE REALLY GOOD AT THEM, THEY BOTH PAY OFF.
One collision in a closet later, Tilda and Davy reluctantly join forces to combat Clea, suspicious art collectors, a disgruntled heir, and an exasperated hitman, all the while coping with a mutant dachshund, a juke box stuck in the sixties, questionable sex, and the growing realization that they can't turn their backs on the people they were meant to be...or the people they were born to love.
About the Author
Jennifer Crusie was researching her dissertation on the differences in the way men and women tell stories when she got sidetracked into writing romance novels.
Her first book was published in 1993 (which pretty much finished off any hope of her getting that PhD) and her twenty-second book, Maybe This Time, came out in August of 2010, all of which she considers a minor miracle, especially since she is also a New York Times, USA Today and Publishers Weekly bestselling author and a two-time Rita award winner.
Praise For Faking It…
"Few popular writers handle light romantic comedy as deftly as Jennifer Crusie...A funny, fast-moving, densely-plotted comedy/caper. Crusie clearly has studied vintage screwball film comedies. Faking It is an unabashed homage to such classics as The Philadelphia Story and His Girl Friday. The dialogue, which is peppered with movie references, is arch and smart-alecky, and moves the story at a rattling pace." —Boston Globe
"The action is fast, the characters are quirky and the one-liners never stop...fast-paced and sexy...should solidify Crusie's place in the big leagues of women's fiction." —The Columbus Dispatch
"A smart, sexy story of intrigue, seduction, blackmail, and art forgery that will have readers laughing out loud and racing through its pages." —Sullivan County Democrat
"Delightful...could be likened to skinny-dipping in a cool pond on a muggy, hot summer afternoon: Risque, yes-maybe even a little kinky-but, oh, so refreshing." —Roanoke Times
"One of the brightest stars in romantic comedy delivers her sequel, to the very popular Welcome to Temptation." —DallasNews.com
"A hoot. Oh, go ahead. Indulge." —Entertainment Weekly
"Crusie's madcap tale of stolen art and mayhem contains more laugh-out-loud lusty living than a sudsy-bubble Oktoberfest." —Bookpage
"Crusie's talent [is] for writing wacky romantic plots that shine with generous amounts of humor and enormous good cheer." —Library Journal
"This laugh-out-loud romp is one to treasure! Nobody combines wit, irony, and sexy, sizzling plots better than Jennifer Crusie." —Romantic Times
"This sassy novel is hilarious!" —Walden Book Report
"Faking It is a hilarious, warm novel with a cast of quirky and wonderful characters that endear while they charm." —Amazon.com
"These bantering anti-heroes are clearly made for each other, and the way that they get back at their tormentor is as refreshing as a mint julep in the summer heat." —Bookstreet USA
"No one else writes like she does-not Romance, not Women's Fiction, but her own distinct, "bent" view of the world with its Runyonesque characters and arch dialogue...the novel's last 50 pages are simply divine." —TheRomanceReader.com
or
Not Currently Available for Direct Purchase