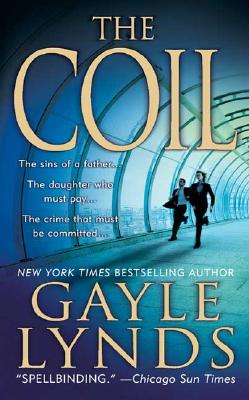 The Coil (Mass Market Paperback)
St. Martin's Paperbacks, 9780312988760, 512pp.
Publication Date: June 23, 2005
* Individual store prices may vary.
or
Not Currently Available for Direct Purchase
Description
A sequel to the New York Times bestselling novel, Masquerade, The Coil picks up several years later. Liz Sansborough, former CIA agent and now an academic, has managed to put the pieces of her life back together. But Sansborough has a dark secret - she is the daughter of the one of the most notorious Cold War Assassins, The Carnivore. When a series of prominent political figures are blackmailed into certain actions or die in suspicious ways, the CIA becomes convinced that someone has gotten hold of the Carnivore's files and is using that information to further some secret agenda. Sansborough herself - the closet living link to the Carnivore - is the target of a murder attempt, her offices are searched, her files stolen and her TV program on the secrets of the Cold War inexplicably shelved by the network. When she learns her cousin Sarah Walker - who bears a close resemblance to Sansborough - is kidnapped off the street with the ransom demand being the Carnivore's missing - possibly apocryphal - files, Liz is determined to save her cousin and uncover the swirling conspiracy, linked to a shadowy group known as The Coil, centered around the legacy of her father. But she's far from the only one going after the truth behind the legendary assassin.
About the Author
GAYLE LYNDS is the "New York Times" bestselling author of four international thrillers including "Masquerade" and "The Coil." She is also the co-author with Robert Ludlum of three bestselling novels in the Covert-One series including "The Hades Factor" and "The Paris Option." She has been a newspaper reporter, a magazine editor, and a think-tank editor with top-secret clearance before turning to fiction. She lives in Santa Barbara with her husband, writer Dennis Lynds.
Praise For The Coil…
"A panoramic backdrop of exotic European locales, breakneck pacing, a tough and brainy protagonist and vicious villains...spellbinding."-Chicago Sun-Times on The Coil

"The Coil is a spy thriller of the highest order...will leave readers slack-jawed in amazement."
-Bookpage on The Coil

"Reading The Coil is hazardous to a good night's sleep, because it's definitely a page turner."
-Times Record News on The Coil

"Not only is the thriller not dead, but it is alive and well and safe in the hands of outstanding authors such as Gayle Lynds."-January Magazine on The Coil

"Where are the new Robert Ludlums and Tom Clancys coming from? Here's one excellent candidate: the tough-minded and talented Gayle Lynds."-Chicago Tribune on The Coil

"A rapid paced, white knuckle page turner that pulls you in on page one and keeps you reading throughout the night...this one will leave you breathless!" -Affaire de Coeur on The Coil

"Moves with stunning speed and keeps the pages turning with twists and layers in both plot and family loyalties...The Coil races from beginning to end, driven by ruthless men with their own golden rule: 'He who has the gold makes the rules.'"-Santa Barbara News-Press on The Coil

"The novel moves at a blistering pace, much in the tradition of espionage legend Robert Ludlum."
-Publishers Weekly on The Coil

"A triumph-an absolutely compelling international thriller...confirms Lynds as being right at the top of the field. If you already know Lynds's work, then prepare yourself for what is definitely her best book yet. If you've never read Lynds before, then I envy you. You are in for a real treat."
-David Morrell, author of The Protector and First Blood on The Coil

"Tantalizing, plenty of suspense and action, great characters, and settings that span the world. I love it!"-Dale Brown, author of Flight of the Old Dog and Air Battle Force on The Coil

"Smart, complex, and immensely entertaining. The surprises start on the first page and keep coming all the way to the end. The Coil is sure to be a bestseller!"-Thomas Perry, author of Pursuit and The Butcher's Boy on The Coil

"In this thrill-a-minute tale of secret operatives and hired assassins, Gayle Lynds proves once again why she's the leading lady on international intrigue. Her dead-on research and breakneck pacing leave you-like former CIA agent Liz Sansborough-navigating a maze of deadly agendas. Beware the Coil!"
-Gregg Hurwitz, author of The Kill Clause and Do No Harm on The Coil

"The Coil is a terrific read, exactly the kind of fast-paced espionage thriller that I love. Great characters, a turbo-charged narrative full of surprises, dark and fabulous settings-what more could you want?"
-Douglas J. Preston on The Coil

"This fast-paced international espionage thriller is Lynds at her best. With an abundance of surprising twists and turns, smart and savvy writing, as well as mysterious and compelling characters, it kept me riveted to the end. A great read!"-Old Book Barn Gazette on The Coil
Advertisement