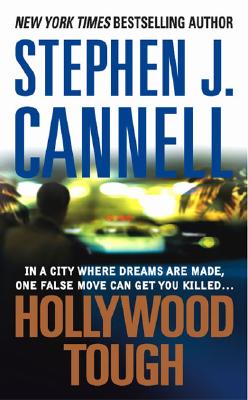 Hollywood Tough (Mass Market Paperbound)
St. Martin's Press, 9780312989422, 448pp.
Publication Date: January 5, 2004
* Individual store prices may vary.
or
Not Currently Available for Direct Purchase
Description
In Stephen J. Cannell's Hollywood Tough, Detective Shane Scully is back in the good graces of the department, hailed as a hero after bringing down a deadly gang of rogue cops in The Viking Funeral. At a glamorous Hollywood party with his new wife, Alexa, Shane overhears a famous producer make a suspicious remark about the strange deaths of his two ex-wives. Is he serious or merely joking around with his coterie of hangers-on? This becomes more than just police business, because the party is to celebrate the engagement of the producer to Alexa's closest friend.
Against his wife's wishes, Shane begins to look into this heavy-hitter's past. At the same time, he becomes aware of a high-profile wiseguy's attempt to control Hollywood's unions. He initiates an elaborate and expensive sting operation, actually setting up a phony production company to produce a bogus movie at LAPD expense. The plan is to draw the starstruck wiseguy into revealing his real purpose for coming to L.A. But before long the overbudgeted movie is rocketing into production. Tough, streetwise Scully, who thought he'd seen just about everything, is astounded by the distorted egos and total insanity of the movie business, and while he struggles to keep his sting operation from spinning wildly out of control, he and Alexa find themselves and Shane's teenaged son, Chooch, involved in something much bigger than they had ever imagined, something that puts all their lives on the line.
About the Author
Stephen J. Cannell (1941-2010) was the author of the bestselling Shane Scully books, including The Prostitute's Ball, The Pallbearers, and Three Shirt Deal. He was also an Emmy Award winning television writer and producer, and in his thirty-five-year-career, he created or co-created more than forty TV series. Among his hits were The Rockford Files, Silk Stalkings, The A-Team, 21 Jump Street, Hunter, Renegade, Wiseguy, and The Commish. He received numerous awards, including the Saturn Award - Life Career Award (2004), The Marlow Lifetime Achievement Award from Mystery Writers of America (2005), and the WGA Paddy Chayefsky Laurel Award for Television Writing Achievement (2006). Having overcome severe dyslexia, Cannell was an avid spokesperson on the condition and an advocate for children and adults with learning disabilities. He was a third-generation Californian and resided in the Pasadena area with his wife, Marcia, and their children.
Praise For Hollywood Tough…
"Cannell ... clearly knows the ins and outs of the entertainment industry, and the detective story, with its wry, subtle humor, doubles as a Hollywood satire.... The well-drawn characters and keen observations on the similarities between Hollywood and the mafia make this a winner."--Publishers Weekly "Once again, veteran writer/TV producer Cannell has concocted his special brand of reader candy."--Kirkus Reviews "Cannell's brand of thriller is served straight up...and he knows how to cut to the chase." --The New York Times "This is a mystery series I can strongly recommend."--The Mystery Reader "Cannell keeps the suspense level high ... making HOLLYWOOD TOUGH ...impossible to put down. Cannell ... continues to demonstrate that he is a master of whatever media he should choose to partake. Certainly the world of suspense literature is richer for his participation."--Bookreporter.com "An interesting and chill provoking read."--Reviewing the Evidence
Advertisement